3 In One-Step Hair Dryer & Volumizer
3 In One-Step Hair Dryer & Volumizer,delivers gorgeous volume and brilliant shine in a single step,with unique oval brush design for smoothing the hair,while the round edges create volume.Designed with Nylon Pin & Tufted Bristles for detangling,improved volume and control.Unlike conventional hair dryers,this volumizer can be placed closer to the scalp for lift.It is safe for use,the Revlon One Step Hair Dryer and Volumizer meets U.S.safety requirements and features the ETL Certification seal (look for the 'test' button on the plug which is required for all hair dryers in the U.S.),Unit is designed for 120 Volt USA outlets Only.DO NOT use a voltage converter as it will damage the Unit.Note that wattage of this appliance may vary depending on the location of use.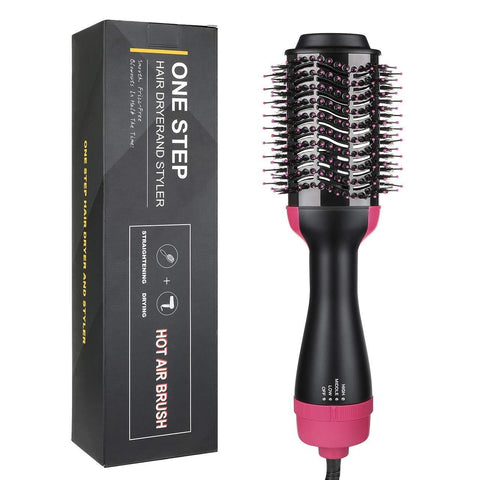 The Hair Dryer & Volumizer is perfect combination of dryer,curler,straightener,and brush.4 in 1 hot air brush for blow drying and hair styling,easily creates volume in your hair.with negative ions saturating the air flow.This will help condition your hair and nourish damaged hair.The brush will also help with hair styling and make your hair shinny and smooth while reducing static.The oval shaped brush keeps hair from getting tangles and the round edges help add volume to hair. The Ergonomic handle is designed for maximum comfort and ease of use during styling.
To meet your different needs,for you to make different hairstyle,fast heat-up and can easily shape your hair in 10-20 minutesThe bottom is a rotary adjustment gear switch ,HIGH heat for thick hair, MIDDLE heat for fine/damaged hair, LOW heat for styling,flexible setting to lock in your beautiful hairstyle.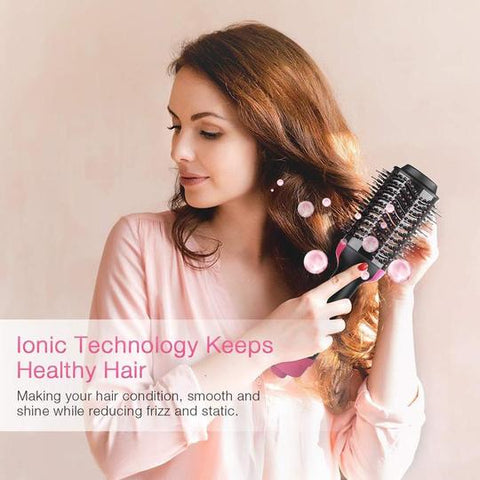 For faster results,towel dry hair to remove excess water,then run a comb through damp hair to detangle for best result.
---