Adjustable Elastic Ankle Brace is Suited For Any Sports
The shape of this pair of ankle wrap is perfectly designed according to ergonomics, suitable for feet, non-slip, forming a strong protective effect.it is an innovative gear that can help improve blood circulation, prevent injuries, help any chronic ankle strain, sprain, fatigue.The ankle support brace can be used for any sports activities, such as strenuous exercise, running, football, weightlifting , Hiking and other sports activities. 
It is easy to wear, no lace. Provides excellent support and comfort for daily use. Our support has functions to prevent the ankle from moving. Suitable for foot length between 250-260 mm; Adjustable: Velcro strapping design allows you to freely adjust the pressure. It provides strong support for the ankle joint and tendons, and the Velcro has super adhesion to ensure that the ankle joint support will not slip during exercise.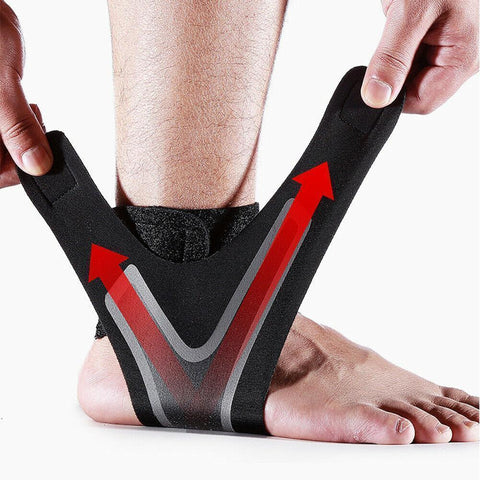 Ankle support is made of high-quality material. Not only provides the required pressure, but is also carefully crafted to ensure that the feet are dry, comfortable and odor-free, for the reason it has a sweat-wicking function, so it can be done throughout the process. Lightweight ankle support! 
Perfect design increased grip can fix the ankle in a proper position to prevent sliding, thereby minimizing the function of ankle injury and opening at the same time. The heel design can sprain, allowing you to exercise in all directions and gain amazing flexibility. Use sturdy Velcro to fix it, so you can do more without worrying! 
One size fits most and easy adjusting Ankle Brace criss-cross reinforced strap that allows the user to freely wrap and adjust it with the customized fit and pin-point compression needed which promotes blood circulation, effectively boost recuperation, and lessen fatigue build-up.With the adjustable straps, the ankle supports almost fit all foot size. You can also wear the compression ankle braces on socks or in shoes. 
---