Beard Growth Kit is Nice Gift For Men
The beard roller help increases blood circulation,beard growth oil provides vitamins and nutrients needed for beard growth,beard comb help organize your beard,this beard grooming kit will give you a amazing effect. 
This is the beard care kit that contains beard wax.It is made from pure ingredients without any annoying ingredients.You can make any beard style you like.Strong hold without being sticky or tacky, lasts throughout the day.
When using the activator serum after using the beard roller, it triggers your body to create new hairs that are thicker, stronger, and ready to grow! For the best results use on a daily basis, just apply 1-2 pumps and rub in a circular motion onto the desired area. Made from all-natural ingredients, the serum works by increasing blood flow triggering your hairs in your face to grow.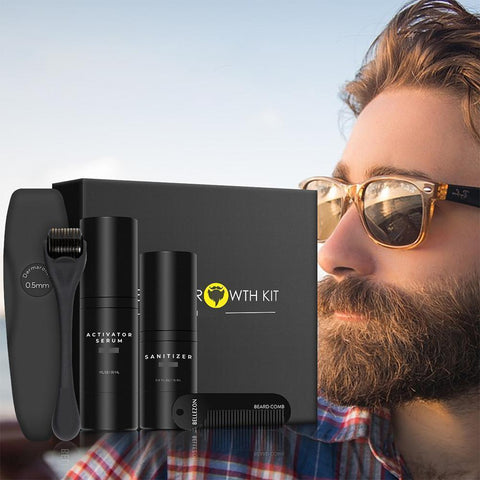 Made from 100% pure ingredients, it softens the beard, regulates the skin, helps the beard grow, and makes the beard thicker and softer. It only takes a few drops to deeply moisturize the beard and make it look fresh and clean. Our beard balm is made of 100% pure ingredients. It moisturizes the beard and skin, soothes itching, reduces dandruff, and makes the beard grow healthily.
The beard kit packed in a luxury gift box,including beard roller + beard oil growth + beard comb+ beard roller washing 4 Pcs,very suitabe as a gift for men/father/husband.
---