Best Pregnancy Body Pillow
Pregnancy is an exciting but exhausting condition, so mums-to-be need the best pregnancy pillow they can lay their hands on, especially since the sleep they are getting before their baby is born may represent their last undisturbed rest for quite some time. Fortunately, the benefits of maternity pillows do not end as soon as the baby is born, since they also have a role to play in breastfeeding.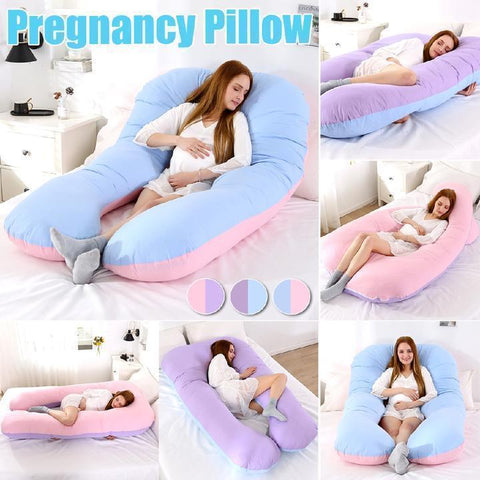 there are a lot of extraordinary things that will happen during pregnancy, but for most women, scoring a good night's sleep isn't one of them.Pregnancy pillows provide custom comfort when you need it most.  A pregnancy pillow—a pillow specially designed to offer support during pregnancy—follows the natural shape of the body and can accommodate any area that may need a little extra TLC. Lower back hurting? Put the pillow between your legs to relieve the pressure. Tummy feeling heavy? Slide the pillow underneath and prop up your stomach while you sleep. Some pillows can even be folded behind you to help you stay upright and manage reflux. Whether you're in week 14 or week 34, a pregnancy pillow deserves a spot under your covers.
Our full body pregnancy pillow can help ease you into a better sleep, reducing interruptions throughout the night and helping relieve back pain associated with pregnancy.
This full body pillow is perfect for ANYONE needing more support, recovering from surgery, or tired of having to use separate pillows to support their head, neck, legs, and back.
You can also use this pillow to sit upright in bed to read, watch TV, or work on your laptop.
Makes an excellent nursing pillow too!
---