Best Value Pop up Changing Tent From IHRtrade
A pop up tent is what you're going to use to keep the flies from biting you as well as keeping the inside space regulated in temperature because for sure, you don't want the cold breeze of the night. With that said, you're probably thinking of how to set up a tent, if that's not your forte, you can always get the best pop up tent that promotes quick and easy installation.
Tent dimension of 280*200*120cm(L*W*H), it can sleep for 3 adult or 2 adult + 2 kids. To extend activity area, tent attaches a pair of vestibule poles, so you can enjoy shade by tent.with a backpacking tent. To easy carry, we design 2 strap. Tent storage bag about 92*92*5cm and 4kg. Good use for camping, hiking, outdoor picnic, fishing, beach tent and etc.comfortable to use when you go outdoor.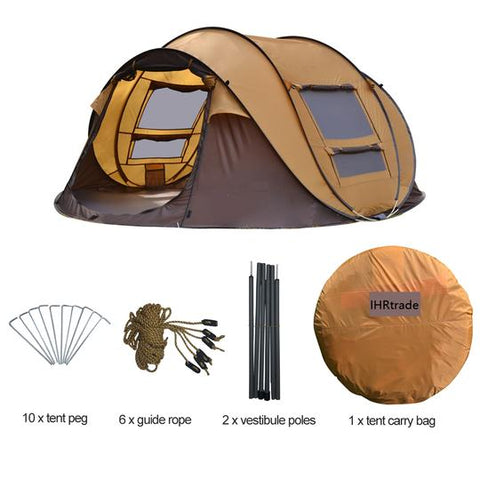 This pop-up tent is constructed of flysheet, inner removed mesh tent, a rainfly and other accessories, when you remove inner mesh tent,you can use it as instant canopy sun shelter.After lift it up , you still need to pin down the corners with 6 stakes, it's more than a little prudent to add 8 guylines to it to add stability and wind-resistance, In this situation, it can resist 15 mph wind.
Designed for person who pursuit Quick and Easy Setup
Save your time to sort out your poles and flysheet - Dome Fast Pop up Top Mechanism make buying quick pitch tent possible,waterproof tent material and the poles are joined permanently.Save your time to fold up double layer tent - Flysheet and inner mesh layer are partly connected by sewing buckles.
Versatile Tents for Camping Easy Setup Waterproof

Amazing 3 in 1 tent, as you can pull the outside part off the tent, and just have a mesh tent, or just an open air sun shade, or keep it as is as a well ventilated tent ,it's basically a camping tent,but it's also suitable for beach.Quick pitch tent - a mature camper just need 1 minute to set-up tents,new camper need to spend 5 minutes to assemble.
---