Christmas Gift -- Lily Solar from ihrtrade.tw
Larger lily flower is now of a tame fabric, improving quality and appearance to that of a real lily.We also upgraded a wider solar panel which converts sunlight into power faster and more efficient in cloudy weather.
Want flowers that will never wilt?Decorate your garden with these Artificial Lily Lights! Beautiful to look at both during the day and night,these flower lights will bring a refreshing air to your backyard or flowerbeds.Make sure they're placed in direct sunlight to charge.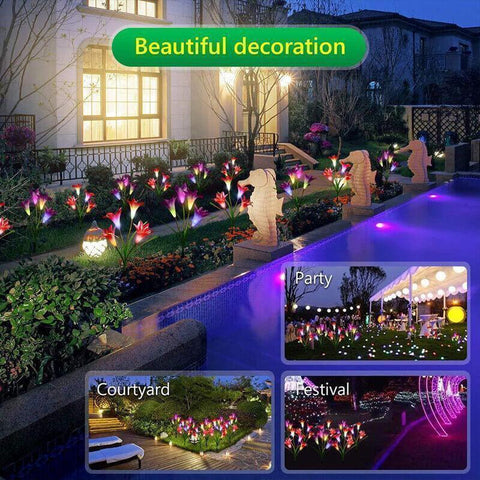 No wire & external electricity required,The Lily Solar Flower Lights store energy from sun rays during daytime and automatically turn on at night.it is environment-friendly,high energy conversion rate,durable and safe to use.
Beautiful Lily Solar Flower Lights with 7 color-changing,automatically lights up in the dark to illuminate your garden and pathway.Perfect as path lights and in-ground lights Suitable for the Garden,Trees,Flowers,Flowerbed,Fence,Walkway,this solar garden lights Does it all.
The flower & stem is made of high quality material proven to withstand in bad weather,Waterproof class is IP65.Both stems and leaves are propped up by iron wire which gives ultra flexibility and durability.You can bend them into different angel and style.
---