Enjoy The Meal Time With Handmade Serbian Chef's Knife
There is nothing better than preparing a meal in the great outdoors.This Bundle is designed for exactly that. Bring out your inner Survivalist and do it in style with our Handmade Serbian Chef's Knife. This bundle will cover you for any obstacles you meet in the wild. It makes an amazing gift for a loved one.This is not just any knife set - it's a masterfully crafted outdoor and indoor knife set that will make cooking so much more enjoyable.
It is an ancient forging knife technique originating from Asia in the Middle Ages. The core of SAN MAI construction is harder high carbon steel. Wear resistant effective cutting and strength on the blade are provided by high carbon steel, while the necessary toughness, so that the knife does not split during long use, is provided by high manganese steel.It will be your stable and reliable work partner.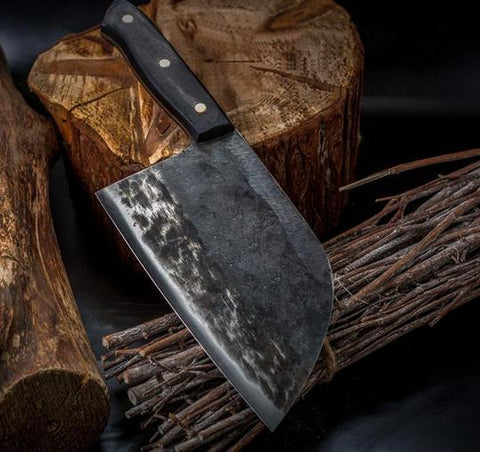 Front for slicing and back for chopping: the front 3 / 4 is used for slicing and shredding, and the back 1 / 4 is used for chopping chicken and duck. selected high-quality high-carbon steel, repeated forging, high quality, high hardness and sharp blade. Hand-sharpening. The master who has a sharpening experience of more than 30 years uses the natural grindstone mined in Mount Emei, and edges the tool by hand with water, which is sharper and has a longer service life than mechanical kitchen knives. 
Dry the water after use,put it in a ventilated and dry place, apply a layer of cooking oil to the blade if it is not used for a long time, do not bring the cutlery close to the open flame, or immerse it in water or corrosive liquid for a long time. 
Ergonomic full tang handle, which is comfortable to grip and non-slip effect. Impeccable performance this strong design with a good strength, durability.The vintage kitchen cleaver knife also will be a great beautiful scenery.
---