Enjoy Yourself With The Steel Tongue Drum
If you are looking for a music instrument that combines easy learning feature with spiritual healing function, then you should not miss this steel tongue drum.
It delivers Buddha-like,clean and pleasant sound once you tap it with your hand or mallets.By the way,playing with mallets may be the first choice to beginners since using hand demands higher power and accuracy.
Anyway,it is easy to master in short time thanks to distinguished notes and music book.Because of its unique sound,The Steel Tongue Drum is always used in yoga mediation, religious activity,mind healing and more,of which intention is to purify people's mind and relax mental tension.Or you can use it as a decoration in home,and its elegant appearance with beautiful lotus flower design will never let you down.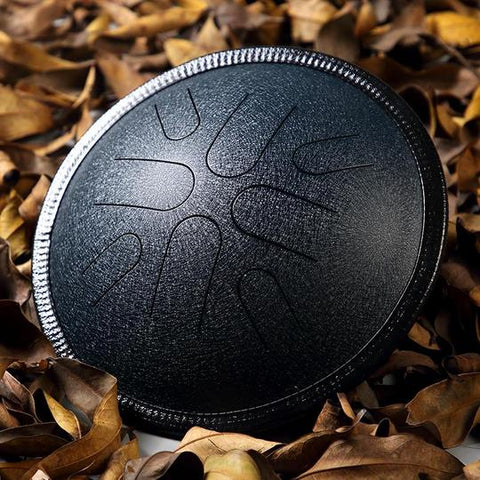 Meanwhile,it is made of high quality steel and coated with spraying paint, enabling excellent corrosion,scratch and fade resistance for longer life span.It an be played with either your hand or mallets,easy to learn and use.
It comes with 4 ginger picks for better tapping outcome and pleasant sound
Made of high carbon steel material,coated with spraying paint,for better corrosion resistance.Serve as an elegant decoration in your home.
Wide applications in yoga meditation,spiritual healing religious activity and more
Clean sound purifies people's mind,relaxes mental tension and enhance concentration.Lotus flower notes and textured surface add aesthetic beauty to the drum.
Silicone feet stabilize the Travel Drum during playing in case of wobbling.
The music book is provided for better master in short time.
The storage bag combines convenient portability with protective storage.


---