Everyone Can Play The Alloy Steel Tongue Drum
The Steel Tongue Drum is played with the pads of the fingers, or with soft mallets. A wide range of sounds can be created with different techniques. Playing by hand connects you with the drum in the way that traditional drums are enjoyed. A minimal amount of force creates a big sound on our drums. Our mallets eliminate the percussive "head slap" creating a very clear tone. The arrangement of the notes make going up and down the scale very easy. Also one hand can reach two or three notes simultaneously for chord playing. The Drums are available in 5 different pentatonic scales in the keys of E and D with 8 notes.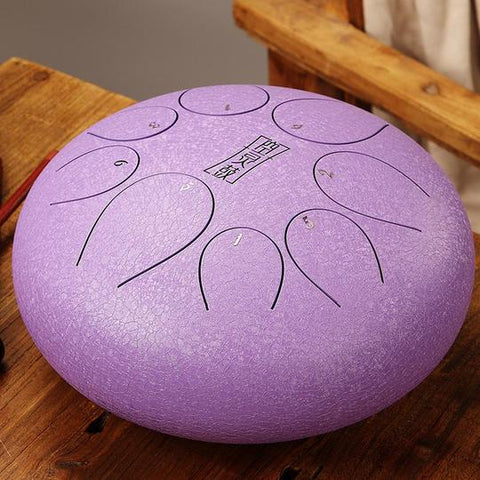 Can anyone play a drum? Sure! Anyone who wants an easy to play intuitive instrument can play one. You don't need a musical background to enjoy it. The tongue Drum is ideal for jamming and playing percussive beats. The drum head layout makes it easy to jump right into grooving rhythms. Enjoy creating a soothing harmonic journey. You will love being able to add a melodic component to your beats. An intuitive arrangement to the notes makes it easy to explore new musical horizons. The strong meditative tones are calming and great for relaxing anytime, or kick it up a notch and play hard and fast. And because of its compact design you can take it outside and enjoy it in nature.
This tongue drum will emit pure and soothing notes, which will help relieve stress and enjoy peace and relaxation. It is widely used in music education, yoga practice, zazen, spiritual rehabilitation, religious activities and more.Made of premium high-carbon steel, this tongue drum is sturdy and abrasion resistant with good hardness. And it coated by protective spraying-paint, which is resistant to discoloration and scratches. With exquisite craftsmanship, this drum is durable for long-term use.
This alloy tongue drum is handmade by professional craftsmen. Although it is simple in structure, its voice is very ethereal, it is also used in spiritual healing and yoga . It has a total of eleven sounds in F tune. This makes it easier to learn and has a wider range of sounds. Even beginners can easily master and play wonderful music. It is very suitable for children's music education, so that he can play with ease and will not feel boring.
---