Fun : Learn about The Tongue Drum
Ihrtrade Professional Performance Alloy Copper Tongue Drum is equipped with an amplification system which allows it to be connected to an amp, effects, sound cards etc. and most of all it comes with an ingenious tuning system which allows you to switch from one scale to another in a few seconds only!

This tongue drum is perfect for those who want to experience different scales with their tongue drum to play in varied musical contexts or to make awesome easy recordings!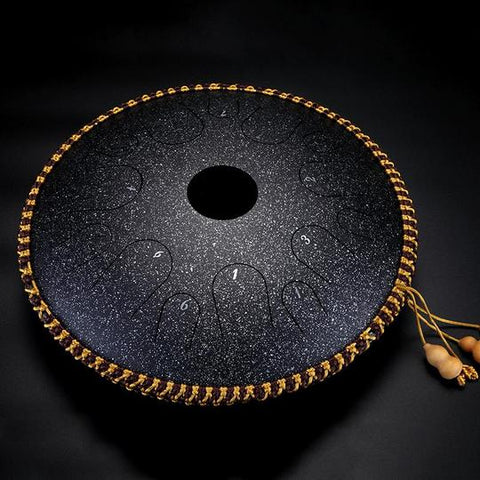 The tongue drum is a melodic percussion instrument that promotes self-expression through music. Its soft, relaxing and melodious sounds make it a popular instrument for music therapy and relaxology. Its handling is very easy and playful so that from the first try you can create melodies that will enchant you with their beauty. No worries to have while playing it as no false note is possible. You just have to let it go and enjoy the moment.
The Steel Tongue Drum is made from an empty propane tank. It has a resonant and mysterious voice, suitable for cinematic and ambient music. We recorded finger and mallet performances on the drum face, as well as multiple percussive hits on its back and sides.
Listening to drum sounds regularly can have the same effect as drumming itself. The sound of drumming generates new neuronal connections in all parts of the brain. The more connections that can be made within the brain, the more integrated our experiences become. This leads to a deeper sense of self-awareness. Drumming can have positive effects on your health and may help with many conditions from stress, fatigue, and anxiety, to hypertension, asthma, chronic pain, arthritis, mental illness, addiction, and even cancer.
---