Get The Steel Tongue Drum For Christmas
Christmas promotion is begin yet,it is the time to get your favourite Steel Tongue Drum.A tongue drum is a musical drum that has parts of the exterior cut, or slit, to provide for a certain sound when the user strikes a portion of the drum. Our drum is made of a metal steel. Its design features a round metal surface with C shaped cuts, providing for a variety of tones.Usually, the way a tongue drum is set up, striking various parts of the drum will provide different tones for the percussion.
The steel tongue drum excites the entire cavity thought the vibration of the tongue. Whether you are playing by hand or the drumstick, you need to control the strength, not excessive force or too lightness. When playing by drumsticks, please play with appropriate force and avoid rough operation for instrument concern.

Steel tongue drum are for everybody - musicians, music therapists, orchestras, hobbyists, amateurs and even kids! Very easy to learn! brand new with new colors, full of girly feeling, electroplating spray paint, surface heat treatment, forming a protective film on the surface, not easy to corrode, no paint peeling, prolonged service life, carbon steel material, hardness, wear resistance Good, fine openings, empty and smart sound, rubber feet, soft rubber feet on the bottom of the drum, stable and prevent vibration and slipping.
Ihrtrade Professional Performance Carbon Steel Tongue Drum 12.5 Inches 11 Notes C Key Handpan Drum is a hand crafted instrument from steel tongue drum family, called as well hank drum, tank drum or handpan. Inspired by hang and halo.

--You can play with single notes, combine them, create simple or complex rhythms.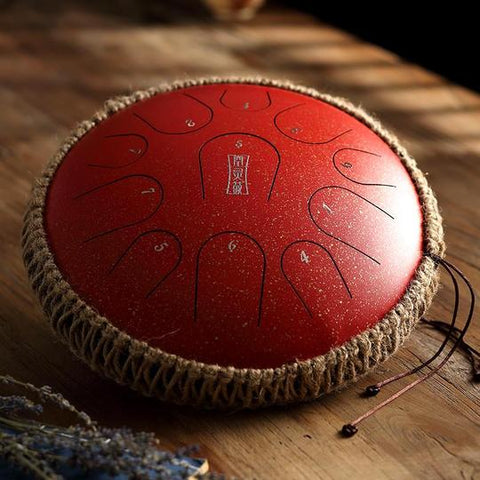 --Everything will sound just perfect, because Raysen Drum doesn't have any false notes.
---