Get the Tank Drum From ihrtrade.tw
Steel Drum with abundant and highly contrasting texture combines the timbre of Chime, Qing, Songbo (Traditional Chinese musical instruments), Guqin (A seven-stringed plucked instrument in some ways similar to the zither) and Zither. Learning to play tongue drum enhances musicians' imagination, concentration and memory, improves physical and mental health and makes you calm, optimistic and transparent.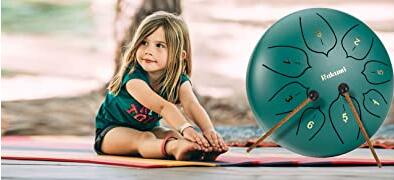 Touch The Soul's Music
8" mini steel tongue drum specially for children musical education.

Easy to play, just using the included mallets to beat the drum tongues, then you will have beautiful sounds.

Standard C key and 8 tones, allows you to play some simple songs.

High-quality Titanium steel material, surface painted with pearl finish, exquisite and anti-corrosion.

- How To Tune New Hand pan? 
For the extreme accurate tuning, using Linotune tuner.
Any given set of overtones can be measured.

- How To Care Hand pan -
・Don't hit strongly.
・Avoid sunlight and high humidity directly.


- How to play Tank Drum -
Please do not hitting strongly like Djembe and Conga,
You will be played enough beautiful overtones by Hitting Lightly with your fingertips.
---