Get The Window Projector For Halloween & Christmas To Enjoy The Holiday
Have you been thinking of how to level up your house decor game this coming holiday season? 🎃🎅
Here you can get the answer--the Window Projector,the perfect solution to easily decorate your home this Holiday Season.These incredible Halloween holographic are going to scare trick or treaters as well as your neighbours for years to come!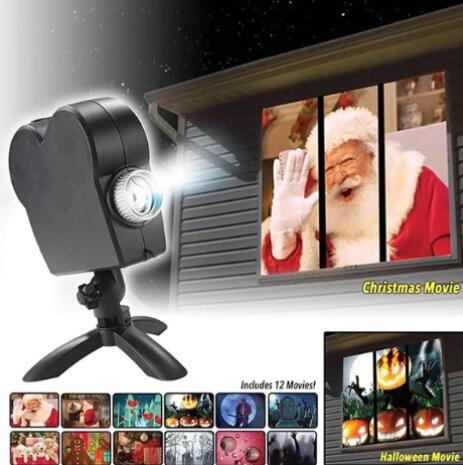 How they work?
Window Wonderland Projector projects optic animated videos onto the included projection screen from the inside of your home.  Movies are displayed on the outside! A built-in audio jack gives you the option to connect external speakers (not included) to include sound with your videos. With this projector you control the videos from the comfort of your home.  The projector is for indoor use. Thanks to the white translucent rear projection screen, videos are projected so the neighbourhood can watch.
It works best in the dark.The darker it is,the brighter the movies play.Excess light, like headlights, outdoor lights, street lights, etc. may make Window Wonderland Projector appear dimmer.
:
Window Wonderland Projector comes with 12 festive holiday videos pre-installed: Halloween & Christmas!
Each holiday-themed video plays for approximately 16-seconds, then repeats itself. Stay warm and cozy inside while the stunning scenes play outside year after year.
The projector with stand projects on any window horizontally or vertically, making it the perfect tool to decorate your home effortlessly this holiday season.
One-button switch is easy to use, you can watch movies with just the push of a button, without complicated settings or installation.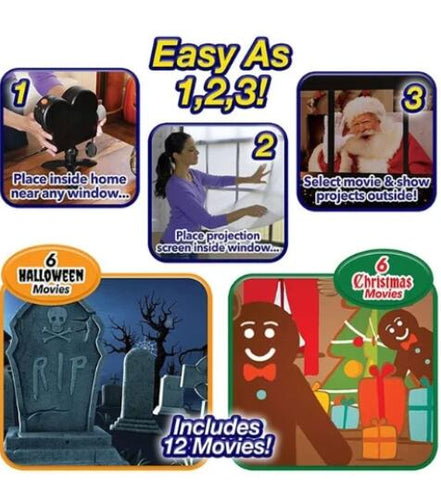 ---