Hand Pan Drum D-Key to be Singing Amazing Sound
Hand Pan Drum D-Key
is handmade by professional craftsmen.The sound is very pleasant and it is a kind of sound like Buddha's tones. The tongue drum has a adequate range of sound,Suit for a variety of fields, such as music education, percussion concert, mind healing, yoga meditation.
A sound stopper on the back can change the timbre of the
Steel Tongue Drum
. When sound stopper is installed,the timbre is fuller and deeper,the sustain tone is short, suitable for playing modern pop music.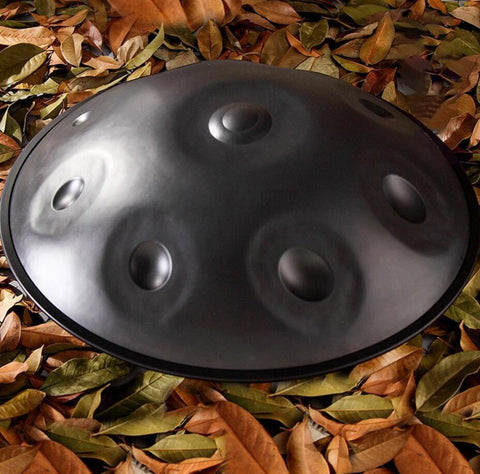 When the sound stopper is disassembled, the timbre is clearer, louder and longer, suitable for playing classical music.The Handpan has unique and relaxing sound. Each handpan makers they have thier own sound charector, material, stroke of hammer, note scale, sound tuning.
The
hand drum
is constructed with heavy duty nitrogen stainless steel material,The color of each handpan will be different due to the different heating temperature when the craftsman uses the quenching treatment.Our hand drums are handmade,there are obvious traces of manual thumping. 
Hand drum in D Minor 9 notes, including 1 center note and 8 tone (D3/A3/bB3/C4/D4/E4/F4/G4/A4).
Great for mediation, classrooms or for children to experiment with music,release pressure,performances, festival celebration, friends & families gathering, etc . 
 It is Sold by AS TEMAN US !For beginners, the sound of mallet will be better than the sound of hands.It's difficult to play well sound with the hand.You need to pratice with your hand.If you have any questions about the sound play with the hand, please contact us, we will answer this question for you. 
---