How a Pregnancy Body Pillow Supports You Best Pregnancy Pillow
Pregnancy pillows are meant to mold themselves to the contours of the pregnant woman to provide support for the head and neck, or the spine, or the tummy, or all of these areas. Before this kind of specialized pillow became widely available, many women in an advanced state of pregnancy would resort to using a large number of conventional pillows, or even rolled-up towels. These had to be carefully arranged, and then re-arranged if the hopeful sleeper moved to a different position.

Because they need to take care of more than one pressure point, some pregnancy pillows are quite large, long enough to tuck between the legs, thus supporting the lower limbs as well. They are intended to prevent you accidentally rolling over onto your back. By taking pressure away from the back, maternity pillows promote relaxation and can help to lead you into a good night's sleep.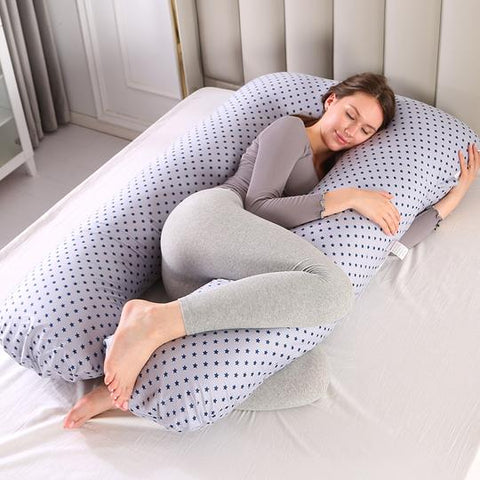 Some pregnant women become so attached to their pregnancy pillow, and the relaxed sleep it allows them to enjoy, that they continue using them long after their baby is born. It may become a permanent feature of their bedtime routine. Even if they choose not to continue using their maternity pillow for sleeping, it still comes into its own as a breastfeeding pillow, cocooning baby in just the right position for maximum nursing comfort and concentration on the task in hand. Supporting baby on a pillow during feeds will prevent you from getting stiffness in your upper arms and shoulders.
A pregnancy cushion is cushion/pillow that is designed for use by pregnant women. The general idea is that it can help pregnant women to feel more comfortable in bed, thus enabling them to get more sleep. And rest assured, you're going to need all the sleep you can get!
So you need to make the most of this opportunity to sleep as much as you can. Sleeping is hard now but this is your last chance to even attempt 8 hours for a long while.
---