How to Play Ihrtrade Steel Tongue Drum
Usually there are 2 ways to play the steel drum: playing by hand or playing with the drum mallets. However, playing it with hands demands higher standards of hands' power and more accurate tapping position, therefore using mallets will be the first recommend choice(especially for new starters). When you are familiar with playing the steel drum, you can try to play with hand freely. And we offer 6 finger picks for you to have a better experience as well. 
The tone of steel tongue drum is ethereal and melodious, it can make people forget their troubles, thus broaden their minds and promote physical and mental health.In traditional Chinese medicine psychology, music can infect moods and affect the body. In listening, let tunes, emotions, and visceral resonance interact to achieve the function of turbulent blood, smooth spirit and heart pulse. Physiologically, when music vibration and physiological vibrations in the human body (heart rate, heart rhythm, breathing, blood pressure, pulse, etc.) When they coincide, there will be physiological resonance and resonance, which is the physical and mental foundation of "five-tone therapy."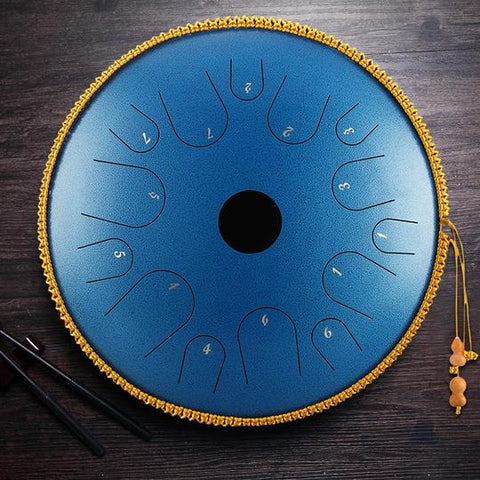 The tone of steel tongue drum is ethereal and melodious, and the timbre is very stable. Better purify and heal the soul, find self and inner peace. It is widely used in religious activities, yoga meditation, early childhood enlightenment and physical and mental healing. 
The Ihrtrade Steel Tongue Drum is handmade by professional craftsmen. Perfectly upgraded 14-tone lotus drum, the sound is more ethereal.It has a total of 14 sounds in C major. This makes it has a wider range of sounds and can play more musics as you need. it is also used in spiritual healing and yoga meditation. What's more, It is pretty helpful for calming down people's emotions.
It comes with a free travel bag, you can easily carry the tongue drum for a variety of activities, including music education, yoga, meditation, religious activities and more.  
---