Ihrtrade 4 in 1 My Beard Growth Kit is Your Ideal Choice
 Are you struggling to grow a beard?There's nothing more frustrating than waiting for an eternity to see barely any progress in your beard growth. Every man covets the opportunity to show off a charming manly beard.Our Ihrtrade 4 in 1 My Beard Growth Kit can help you to promote new/thicker hair growth effectively. 
The .540 titanium grade needles will create thousands, yes thousands of microscopic channels to activate your body's natural healing process. The collagen production from the use of the beard roller gives hair follicles what they need for denser facial hair and more beard growth.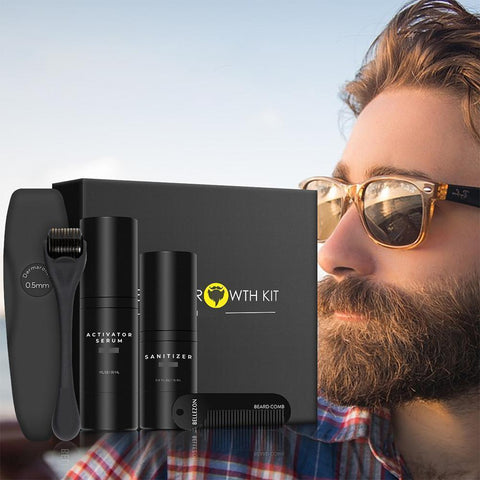 This beard kit is the safest and most effective combination tools for your beard-growing. Use the rolling tool 8-10 times back and forth on each area horizontally, vertically and diagonally before applying face cream, beard oil, or skin serums, this can help you better distribute the oil and balm, and give you a healthier and thicker beard. 
Beard balm provides the proper hydration and strength to each hair and helps to reduce hair losses, what's more,your beard not only looks well-defined and healthy comparing to others, but also feels softer and more moisturized as well. With the help of beard growth oil and balm, let's get rid of dandruff, itching and split ends. 
 Our new beard growth kit will be your ideal choice, considerately coming with a convenient travel storage bag, you can just put all the stuff into the bag no matter when you are traveling or on business. Let's embrace facial hair in all its glory, you can display a great deal of independence and confidence to stand out from the crowd. 
---