IHRtrade Automatic Pop-up Tent is The best Choice For Outdoor
Camping is one of the most exciting outdoor activities that you can have with your friends, family, or community. You get out from the comforts of your home and be one with nature day and night. However, you're going to need some basic camping skills especially when you plan to sleep outside at night.You cannt miss our IHRtrade Automatic Pop-up Tent.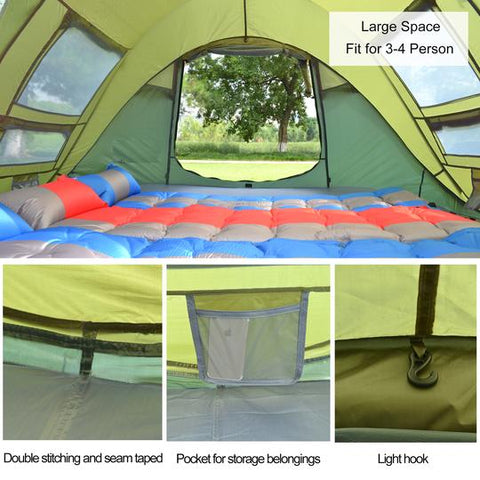 A tent is what you're going to use to keep the flies from biting you as well as keeping the inside space regulated in temperature because for sure, you don't want the cold breeze of the night. With that said, you're probably thinking of how to set up a tent, if that's not your forte, you can always get the best pop up tent that promotes quick and easy installation.
If you're a family or a small group and you don't mind staying inside one tent, the IHRtrade 3-4 Person Outdoor Instant Setup Tent is a good match for you. The IHRtrade 3- 4 Person Pop-Up Tent, as the name states, can house 3-4 person at the same time. Furthermore, the IHRtrade 3-4 Person Pop-Up Tent has a center height of 3 ft. 4 in. When it comes to setting up,it allows for easy 10-second setup.Features taped floor seams for keeping it dry along with multi-position rainfly for the perfect protection and ventilation.
It comes in a compact carry bag that's suitable for backpacking and hiking.
---