IHRtrade Automatic Pop-up Tent is The Best Choice For Outdoor Sports
The Pop Up Beach Tent from IHRtrade is an easy-to-assemble tent for the beach, park, or even a warm-weather campsite. It automatically pops up and opens in 1 second and folds back down in only 3 seconds. The flame resistant polyester fabric has a UV rating of 50+ UPF to protect you and your family from the sun's harmful rays. High quality waterproof coating fabric, and it is double stitching and seam taped at the bottom of tent. Good sun protection performance, it's special fabrics can prevent ultraviolet rays and adapt to various weather conditions.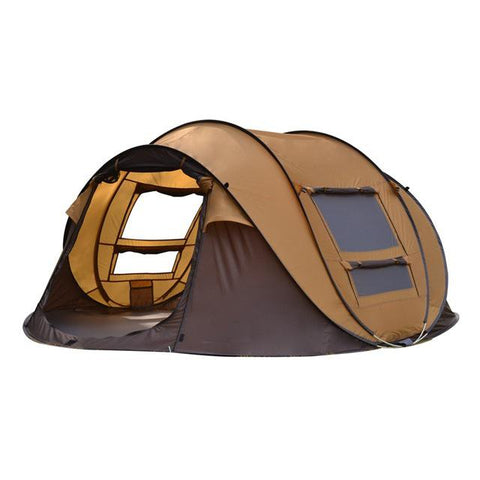 The pop up tent has a bathtub-style seamless polyester door with anti-fungus protection and a water-resistant silver-coated layer. The micro-mesh protects you from bugs while promoting airflow, and you can also take advantage of it on cloudless nights to stargaze.
Featuring a dual-pole rectangular dome design and a freestanding fiberglass frame, the Tetragon is a decent 5-person camping tent by any standards. It utilizes the stress-free ring-and-pin assembly system as well as fiberglass poles with clips.

The Outdoor tent has a spacious entryway, an all-weather 63D polyester rainfly with a waterproof coating, mesh roof and side panels for maximum ventilation, two storage pockets, and an inbuilt media center on the inside. It weighs only 14 pounds, so it is quite easy to lug around on trips.
It also is a backpacking tent. To easy carry, we design 2 strap. Tent storage bag about 92*92*5cm and 4kg. Good use for camping, hiking, outdoor picnic, fishing, beach tent and etc.
---