IHRtrade Cycling Glasses are Light,Soft And Easy to Carry
IHRtrade Cycling Glasses,a well-designed detachable and adjustable nose pad for any face type.All lenses are 100% UV400 resistant to block harmful UAV and UAB rays.Restores the natural light of the scene, eliminates astigmatism, and perfectly protects the eyes.The main one is colourful lense,the yellow one is for night , gray polarized lens for strong sunlight; pink and transparent lenses for cloudy days. 
The nose pad has soft stainless steel inside, which is not easy to break and has a long service life. The nose pads are made of a comfortable rubber material that will not cause discomfort to the nose even if worn for a long time.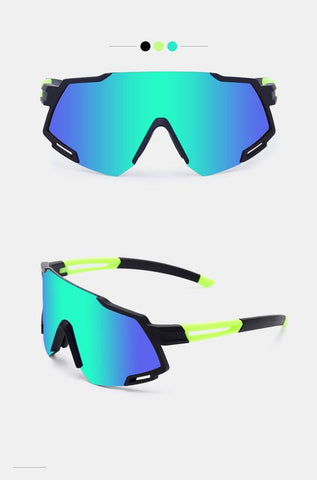 Men sunglasses frames are made entirely of lightweight, rugged TR90, and you won't feel discomfort even after wearing them for a long time. The packaging of the mens sunglasses polarized uses a lighter material, which can be hung on the waist and is more convenient. 
Differentiating other bike sunglasses to replace lenses requires almost the decomposition of glasses -Sports sunglasses replacement lens can be completed in a simple step. Pull the nose pad down partially, take the lens out, put the lens you need to replace, and finish. 
 Because the polarized sunglasses open holes in the lens, the air circulation is better, so that the sweat evaporates faster, which can effectively reduce the fogging of the lens. The lightweight design is ideal for motorcycles and bicycles, driving, running, fishing, racing, skiing, hiking, or other outdoor activities. 
---