IHRtrade Cycling Glasses are The Best Safety Protection For Eyes
The best cycling eyewear protects your eyes from harmful radiation and stones kicked up by the wheel in front of you. They have to fit comfortably, grip when the sweat starts running, and respond to riding conditions, whether you're riding through wooded singletrack or hammering on the open road.
IHRtrade Cycling Glasses with 5 Lenses can easily replace lenses.The main lens is the REVO HD lens, which can increase the contrast and make the field of vision clear,Yellow lenses can be used at night to enhance the light, black polarized lenses can play a role in eliminating reflected light in bicycling driving and other activities.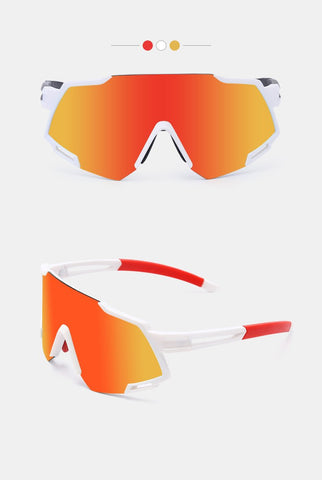 It has very strong impact resistance and can provide excellent protection performance.All the lens of sunglasses 100% UV400 protection coating, blocks 100% harmful UVA & UVB Rays, Best safety protection for eyes.The cool classic design frame is TR90 memory polymer material, lightweight and durable, allowing you to biking, running, baseball, motorcycle, fishing, skiing,triathlon, hiking and other outdoor sports can be applied without burden. 
The nose pads and temples are wrapped with soft hydrophilic rubber, which can make the Outdoor Sports glasses have excellent anti-slip effect regardless of sweating or rain. Adjustable nose pads are especially suitable for those who have difficulty matching their faces and those who need to accommodate long eyelashes. 
---