Ihrtrade Garden Irrigation Control Timer
Never over water again or worry about turn on watering or not. Simply program the digital water meter: one for cycle time and one for water time. For example, watering twice a day, one on 7:00am and one on 6:00pm, and water 30min each time. Just setup set cycle wheel to 12hours and water time wheel to 30min at 7:00Am or 6pm at first time. It will automatically water same way every day after. It will work with any type water device. Very easy to install, simply screw 3/4" female inlet end of a timer to your water faucet and quick plug or screw 3/4" male outlet end to your garden hose.
1. Extra-large LCD with bright, vivid text provides best-in-class readability
2. Super-simple programming gives flexible control of watering duration and frequency
3. Rain delay and manual watering functions ensure maximum water conservation
4. Watering number (can be controlled by rotary switch), designated way to continue to output the opening valve watering shortest time is 1 minutes, the longest continuous output valve opening time is 240 minutes.
5. Watering cycle (controlled by rotary switch), the minimum cycle time is 6 hours, and the longest cycle is 7 days.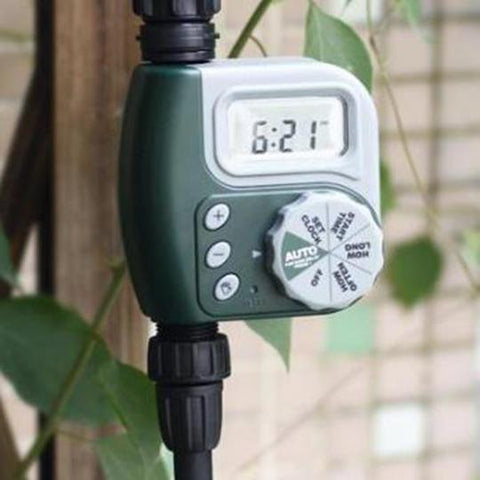 The Garden Irrigation Control Timer Suitable for the control of irrigation systems in the domestic sector, such as lawn sprinkler, sprinklers, drip house, etc.Automatic and intelligent, easy to operate.Made of High quality plastic material, wear resistant and anti-corrosion.Rubber gasket design, leak-proof and tightly sealing.
Watering time:

 

the minimum watering time is 1 minute and the maximum watering time is 300 minutes.
Watering cycle: the cycle time is 6 hours, 12 hours, 1 day.

2 days...

The longest cycle is 7 days.

Suitable water temperature: 0℃-40℃.

Control: can set specific watering time, and can set the current specific time.
Waterproof:

 

all waterproof function.
---