Ihrtrade is The Best Manufacture Of Steel Drum
Ihrtrade Steel tongue drum is handmade by professional craftsmen, they attach much importance to the meticulous cutting for accurate tone, so again, don't tune it before you are 100% sure you can do it. The steel tongue drum comes with highlight stickers for easier playing.And with non-slip rubber feet for stable support when you playing. 
The tone of steel tongue drum is ethereal and melodious,it can make people forget their troubles,thus broaden their minds and promote physical and mental health.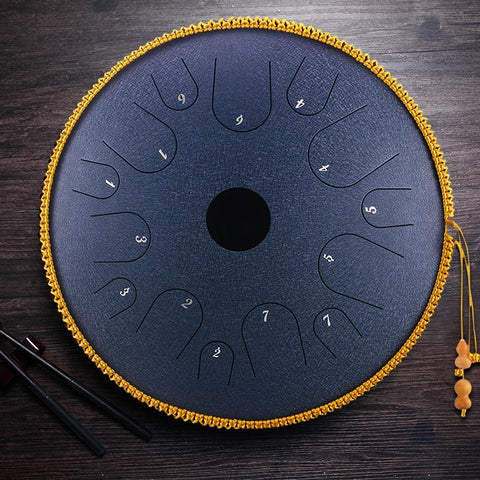 Full accessories for new beginners and professional players
From the customer's perspective,we prepare everything you may need in ihrtrade steel drum package.As the images above shown, you will get 1 steel tongue drum, 2 drum mallets, 1 mallet bracket, 6 finger picks, 1 set of note stickers, 1 music book and 1 travel bag. Having all in one , you can enjoy your steel tongue drum any time or place you wanna.Please kindly NOTICE: Although the music book states that the steel tongue drum can be tuned but we don't recommend you do this since each item is well-tuned before shipping.and please REMEMBER: the tuning is irreversible, you should think it over again and again before tuning.
The steel tongue drum adopts titanium alloy as material, more strengthen, better corrosion resistance and heat resistance than carbon steel ones. Features in 14 notes standard major C key with a wider range of sounds, achieving new beginners and professional players to play more different kinds of songs. The tone of steel tongue drum is ethereal and melodious, and the timbre is very stable. Normally widely used for spiritual healing and calming down people's emotion. 
---