Ihrtrade Pregnancy Pillow are Pain Relief for Sound Sleep
Pregnant women often need a few extra comforts to get through those nine long months. Well-fitting maternity clothes, prenatal vitamins, and ice cream can usually do the trick! However, for sleeping issues, pregnant women can rest much easier by using a pregnancy pillow. These pillows are designed for use in all three trimesters and beyond. 
Our U shaped Pregnancy pillow follows the natural contour shape of your body which helps align your spine and relieve pain and discomfort from pressure. It is long enough for you to stretch out and provides equal support to both back and front of your body. 
Ihrtrade body pillow for pregnancy can help improve your circulation and relieve back pain,hip pain,fibromyalgia, sciatica, gastric reflux, congestion, carpal tunnel syndrome etc. Get the best sleep you've ever had and sleep through the night with no more tossing and turning! Treat yourself with this pregnancy pillow!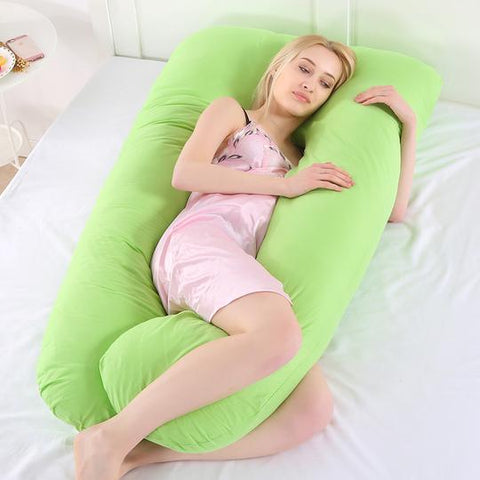 The outer cover of this pregnant pillow is made of 100% polyester and velvet fiber, which is super soft,odorless and hypoallergenic,friendly to people with allergies and sensitive skin. Filled with 100% premium hypoallergenic high density polyester fiber, it is extra plush and fully, offering persistent comfort,support and durability for years use. Cradle yourself in complete comfort with our U shape pregnancy pillow !
The Full body pregnancy pillow comes with a double zipper at both the inner and outer cover, easy zip on and off for easy care. Simply throw it into a standard washing machine on a cold &delicate cycle and dryer. It can withstand multiple washing and will never clump or tear. With the easy zipper, you can also easily take out some filling to adjust your own height if you feel too high. 
---