Ihrtrade Sauna Vest With Prefect Quality
Ihrtrade Sauna Vest's special blend of fabrics come together to create the ultimate tank top in Advanced Sweatwear.The inner heat-trapping polymer fabric increases your core temperature to promote sweating for more calories burned and faster weight-loss results. The outer performance compression fabric instantly slims and shapes your figure, while also supporting your muscles. An anti-slip waistband ensures Ihrtrade Sauna Vest stays in place and doesn't shift on your body.
They were made of the newest Polymer material,contribute to rising body temperature and gathering the heat to help sweat. People could reduce redundant water to lose weight and keep fit through this sauna-like feeling
Tank top with zipper design, easy to take on and off; Great elasticity, keep the shirts high recovery and durable; Light weight, convenient to carried over anywhere; Quick drying, suitable for frequent and regular training.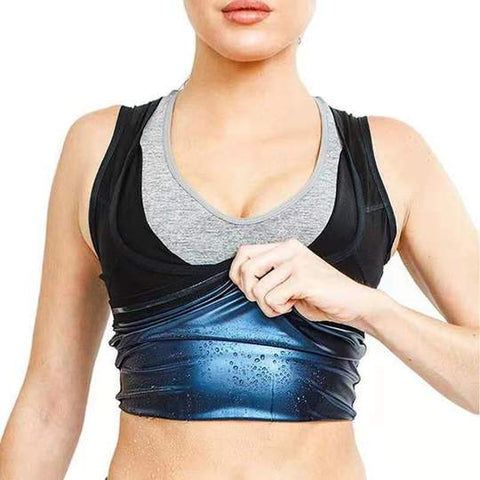 Just pay attention,it is a little tight at the first wearing,adjust the using time gradually according to your body adaptation but not more than 5 hours; Do not use it immediately after meal; Wash it after use in time; Do not suggest under-age people use it; Hand wash with cold water;Do not bleach or iron; With like colors; Hang to dry with the lining side towards the outside.
The new Polymer vest will help rise the body temperature continuous in a short time to accelerate sweating while exercising.Sauna-like feeling will help make redundant water out of body.
Ihrtrade Sauna Vest is lightweight and comfortable, so it moves and stretches with you: during workouts at the gym yoga, cardio, cycling, running errands, and so much more. Featuring a traditional tank top style backing and low-cut bust support in front, you can easily wear a bra underneath. Ihrtrade Sauna Vest polymer material will make you sweat, but it also repels moisture to dry quickly and always stay fresh. Wear Sweat Shaper under or over your clothes for a flat, toned look.
---