Ihrtrade Steel Tongue Drum Has Variety Colors
Alloy Steel Tongue Drum,made of high end steel design,Handcrafted with steel-Titanium alloy, the steel tongue drum is also coated with water-based environmentally friendly paint that against tarnishing, scuffs, and scratches. It is a long lasting percussion instrument that you can always keep. 
Cut with lasers for perfect tuning and checked by professional artisan, each "Lotus Leave" of the 13 tongues emits excellent resonance vibration and brings you pure, smoothing and peaceful sound experience from every single note hit. 13 note steel drum can be played with most common tunes, works better than 11-tones steel tongue drum does.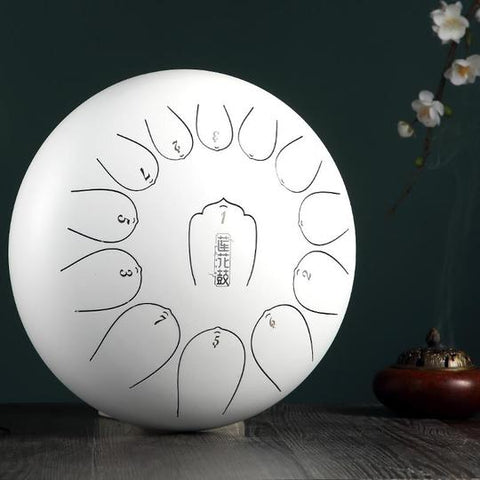 Ihrtrade Steel tongue drum is a musical sculpture that combines the essence of Chinese thousand years of philosophy, religion, culture, art, music and national studies. It combines modern technology, sound theory and innovative design. It is a work of art, a musical instrument, and even of your mind mate.
Steel Drum has variety color, Dark Blue, Black, Stone Green, Gold, Silver, Blue. You will have many choose for a gift, such as Christmas, birthday and so on. 
The Steel Tongue Drum is made from an empty propane tank. It has a resonant and mysterious voice, suitable for cinematic and ambient music. We recorded finger and mallet performances on the drum face,as well as multiple percussive hits on its back and sides.
---