IHRtrade Tactical Dog Harness is the Best Partner of Your Pets.
 Perfect knitting dog harness and turning technique, all of them are knitted with CNC needle and thread, the threads are laid flat and ANO is strict and meticulous. Strong deformation force, neat and beautiful. Front Handle Front control handle for better control of your pet, the middle triangle buckle 2.85MM steel plate is forged and made of sturdy and durable, it can match 90% of the tow rope in the market.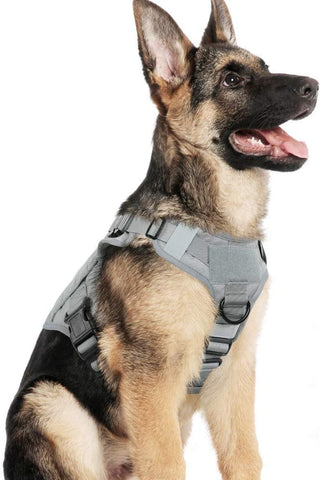 System Design The Molle double-sided system design matches the military molLC double-sided design, which is designed for all Molle system kits and equipment, providing a comprehensive range of extensions for your dog. 
It's our mission to enable your dog to grow in style and comfort. Heavy duty dog vest harness made of 1050D Nylon with sturdy stitching for extra durability and wearability, prevents chewing or tearing, suitable for all field use. Soft padded to protect your dog's skin, while the breathable padded liner keeps your dog cool and comfortable.
IHRtrade dog harness help you walk, run, and play with the dog together. The arc of the harness back is extended so that it won't scratch dog's skin while ensure the comfort. Reflective design all around the dog harness will keep you and your dog safe while out for a walk even at night.
---