IHRtrade Tactical Dog Operation Harness Lets You Get into The Wild
You don't have to be in the military or police force to get a tactical harness for your dog.They're a great choice for hiking or sports because of their durability and ability to carry bags and equipment. Also, they just look awesome on your dog.
Tactical Dog Operation Harness with 6X Buckle features the MOLLE system for attaching gear. It also a hook-and-loop design for patches.1000D nylon construction is strong and durable.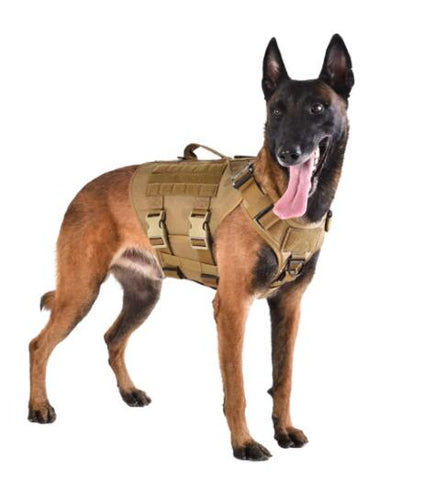 Because the harness lacks padding, it can be abrasive to your dog's coat and skin. The stitching is weak, which causes it to break easily. This makes both the durability and quality of the harness much lower than others on our list. The handles are awkwardly placed at the front and rear of the product.
Because of its quality and durability, the best material for a tactical dog harness is nylon. In particular, you should look for Cordura 1000D nylon because this is the most durable kind, able to hold up to anything you and your dog can throw at it.
A lightweight harness can ensure that your dog doesn't get tired out due to the harness, but it's a balancing act. You don't want a harness that's so light that it tears easily. You also don't want one that's so dense and heavy, your dog gets tired before you've even completed your trek. The best thing to do is to consider your dog's age, size, and breed. Larger, stronger breeds can handle a heavier harness with greater ease than puppies or smaller breeds, so you should consider your dog's needs before purchasing.
SO the IHRtrade Tactical Dog Operation Harness with 6X Buckle is the best choice for you.
---