Ihrtrade Tibetan Singing Bowls---Immerse yourself in a Soothing, Natural Sound.
Handcrafted by artisans in Nepal, the Singing bowl creates a beautiful, sustained tone when struck or played along the rim. The vibrations immerse you more deeply in your meditative or focused state and are soothing and relaxing. Add a small amount of water to the bottom of the bowl to create a special auditory experience! 
Find greater peace and tranquility with this complete singing bowl set. Includes a 4-inch Tibetan singing bowl, 1 easy-to-hold suede mallet, 1 soft silk cushion, 1 convenient storage bag, and 1 user manual.The high level of craftmanship shows on this bowl, which is made using traditional techniques by artisans in the foothills of the Himalayas. Hearing the vibrations of the bowl can help put you in a relaxed state that calms you and reduces stress. 
 Adding to the visual beauty of the bowl are the hand-carved Sanskrit motifs. On the inside of the bowl, the "Om Mani Padme Hum" is believed to invoke powerful blessings, and the Buddha's Eyes on the bottom symbolize the all-seeing wisdom of Buddha.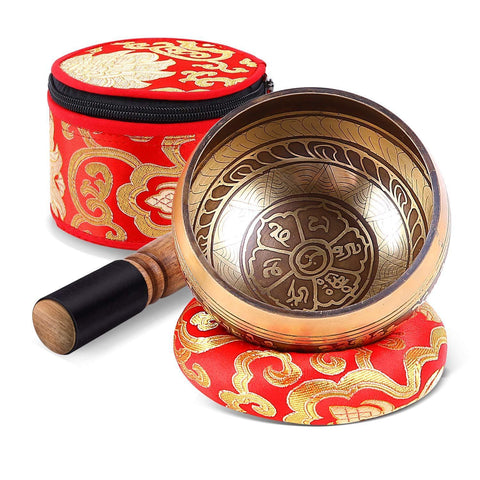 Whether you practice meditation, yoga, holistic healing, or work with Chakra or Reiki, this Tibetan Singing Bowls Set deepens your connection, grounds you and provides an aesthetic boost to your visual and auditory surroundings.All you need to play the bowl is the mallet—either tap the side of the bowl or slide the mallet around the rim to create a calming, resonant sound which will activate your sonic environment and help you in your spiritual practice. 
As beautiful to look at as it is to hear, the small 4-inch size and convenient carrying bag enable you to bring your bowl wherever your practice takes you. An essential tool for deepening your focus and enhancing your yoga, meditation or Chakra healing practices. 
---