Inflatable Travel Pillow Invented By Travellers, For Travellers
There's nothing like a good night's sleep when you're travelling.You'll have more energy,more comfort,and more drive when you wake up in the morning.ihrneer inflatable travel pillows offer a wide variety of the best Inflatable Travel Pillows for Airplanes and basically any mode of transport you choose.Any mode of travel means trains, planes and automobiles, also canoes,motorcycles and backpacking...you get the idea!

Our Inflatable Travel Pillows are the most packable,portable and versatile on the market and will make your travel a very comfortable experience.with superior quality,made with domestically sourced,ethically produced material and local sales and shipping.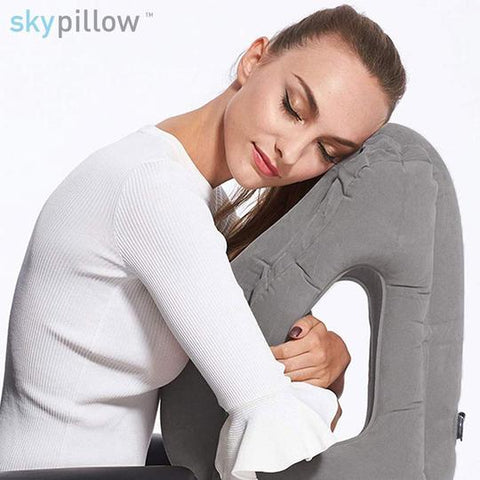 We called it the
Sky Pillow
because we did just that—packed our own pillows from home wherever we went.Baggage charges and security charges started to wear us down.It's a lot of extra room to pack your own pillows.When we got back to Ottawa, we searched for that pillow in stores. We searched for that pillow online. We couldn't find it. So, we searched our imagination for how we could design it.
We figured out how to squeeze an at-home sleeping experience into less than a pound that could be tucked away into bag and kept in your luggage.
What Can
Inflatable Travel Pillows
Do For You?
The Inflate to your level of comfort,this ergonomic travel pillow is perfectly suited for use on the go.The soft velour-type surface and lateral supports help provide extra comfort while in use.Comes with a compact storage pouch for easy storage in luggage or suitcase.
---