It Is EASY TO LEARN & PLAY The Alloy Steel Tongue Drum
Methods of enjoying the Alloy Steel Tongue Drum:
when using mallets,hold the mallet lightly and let it drop and bounce off the note. This creates the ideal tone.The sound under the mallets will be more penetrating, purer and more ethereal.Holding the mallet 1/3 and tapping the middle of tongue head,you will get the prefect sound.If some "noise" comes out when you playing it, it is mostly caused by tapping incorrect location.
Playing with hands:Like all musical instruments, it takes practice to learn. To achieve the hand playing technique, use the pad of only one finger to strike the note. Use a wrist motion to slap the finger off of the note. Start learning on the largest notes and then once you have good technique, move to practicing on the smaller notes. Most people take a few days to a week of daily practice to get the hand playing technique.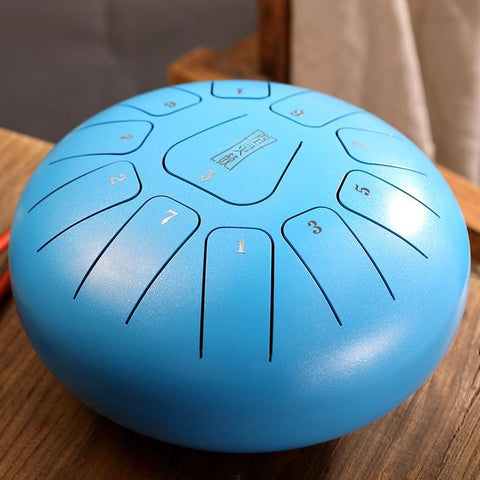 Muslady C key and 11 tones steel drum is handmade by professional craftsmen. Although it is simple in structure, the sound is very pleasant and it is a kind of sound like Buddha's tones. It is easier to learn and has a wider range of sounds. Even beginners can easily master and play wonderful music. No need for foundation, no need for talent, it is very suitable for children's music education, so that he can play with ease and will not feel boring. At the same time, because its voice is very ethereal, it is also used in spiritual healing and yoga meditation. It is very helpful to calm people's emotions. 
Beginners can learn how to play in ten minutes by using textbooks and scale stickers. You can play 11 notes steel tongue with the rubber topped mallets included or simply with your hands. This tongue drum is more suitable for direct hand tapping. We hit it with drumsticks, the tongue drum sound will be slightly off.
---