It is Easy To Use Reusable Magnetic Eyelash Kit
These IHRtrade FabLash Reusable Magnetic Eyelash Kit includes everything you need to complete your look. There are two liquid liners, as well as accessories to make application even easier. Trim your lashes to size with the scissors, put them on gently with the applicator. Cared for properly, these lashes will last for up to 40 wears each. Enhance your eyes with the Bisutang False Eye Lashes. Lightweight and reusable, the handmade, cruelty-free lashes are perfect for any occasion and eye shape, they will add volume, depth and definition for long-lasting, show-stopping results. 
Reusable Magnetic Eyelash Kit is a safe Ingredients and comfortable,the false eyelashes are with light weight, you even can't feel it when you wear it. No glue, No sticky tape adhesive! You can free your eyes. We choose absolutely safe ingredients, premium quality eyelashes made of silk, super comfortable and lightweight, and used the upgrade magnetic technology, to give our customers best experience.
Our magnetic eyeliner and eyelash kit is very durable and strong. Our eyeliner kit is actually made with a stronger formula than other magnetic eyeliners. It's also waterproof and doesn't fade. You can enjoy your beautiful lash look all-day long.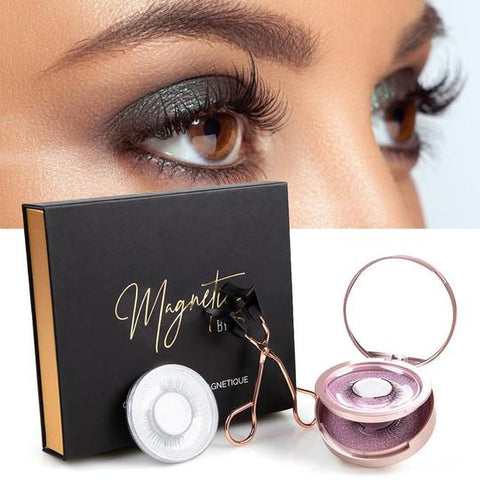 It is easy to use reusable magnetic eyelash kit, puton our magnetic eyeliner and lashes kit is very simple. First, apply the magnetic eyeliner as you would with any eyeliner. Wait a few minutes for it to become tacky and then apply the magnetic eyelashes on top of it. It's that simple and easy to use Key Product Features.
Magnetic Liner Application Tips:
Shake before each use. Glide brush tip along the lash line, making an even line as thick as the lash magnets. For optimal results, apply lashes onto liner once 80% dry.To remove the Liquid Magnetic Eyeliner, use an oil-based makeup remover.
---