It is Easy to Wear The IHRtrade Tactical Dog Harness
IHRtrade dog harness is made of durable materials and sturdy metal hardware, plus multiple additional features. This practical harness combines quality and versatility, making it suitable for service/work use, outdoor training, or adventure hiking Perfect equipment. 
Durability is essential in a tactical dog harness. Because these harnesses are typically used in high-stress situations, such as with police dogs or extreme sports, they need to be able to stand up to harsh conditions.They should not only be made of high-quality materials,but the stitching needs to be done properly.
A harness with a handle can be extremely useful. It can help in dangerous situations and give you greater control over your dog. This is where the stitching is particularly important. The handle should be engineered in such a way that it can stand up to serious wear and tear. The last thing you want is for the handle to give way in a treacherous situation.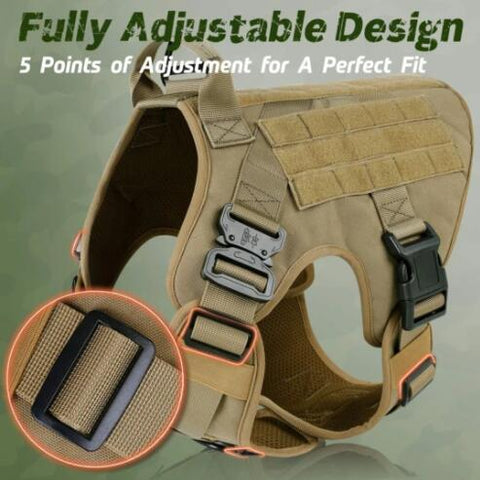 Many tactical harnesses have extra pockets for storage that are helpful. They also have MOLLE attachments, which stands for Modular Lightweight Load-Carrying Equipment. It's especially helpful if any of the additions are detachable, which allows you to control the overall weight of the harness.
Connect leash to No pull front clip,redirect the dog forward motion and make dog's leg off the ground ,Allow you to Control the puller with few effort and training your dog to walk beside you; Back Leash Clip for well-trained dog normal Walking;Durable Handle is Sewn Tough and Large Enough to Grab the Harness Quickly and Easily When Walking in Crowd ,Also Lift Your Dog When Getting in/out of the Car.
---