Multi Color Changing LED Lily Solar Powered Lights
Lily Outdoor Solar Lights,with bigger solar panels are made of monocrystalline silicon,which has the highest photoelectric conversion efficiency of all solar cells. Built-in 1.2V / 600mAh Ni-MH AA battery.Charging for 4-6 hours during the day and 6-8 hours of lighting at night. The solar flower light automatically change colors slowly, gives you colorful light show at night.It does not stay on one color, it always change.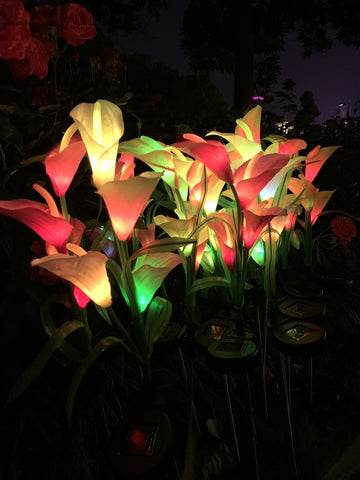 The new solar flower lights outdoor have larger lily flowers, which are made of tame fabric, improving quality and appearance to that of a real lily. Upgraded wider solar panel converts sunlight into power faster and more efficient in cloudy weather. Both stems and leaves are propped up by iron wire which gives ultra flexibility and durability. You can bend the solar flowers stems and leaves into different angel and style, the lily shaped flower lights will stay in shape even after thousand times of bending. 
This beautiful Solar flower lights artificial flower garden stake light equipped with 600 mAh rechargeable battery, IP 65 waterproof level, can work about 6-8 hours at night if fully charged during the day. It will automatically light up to illuminate your garden and pathway.
Beautifully designed outdoor solar lily lights are molded no wire & external electricity required, perfect as path lights and in-ground lights, suitable for the Garden, Trees, Flowerbed, Fence, Walkway. Well designed package as a perfect gift for friends. 100% Satisfaction. 
---