Neck Conditioning Make You Comfortable.
Developed by Chiropractors,Physiotherapists, and Orthopedic Doctors, the Neck Pain Relief Cervical Traction was made to give you Instant Neck Pain Relief at Home. While neck and shoulders exercises can help you a lot, we see that cervical traction can give you the most relief. Unfortunately, most cervical traction devices are too expensive and inadequate to use it at home.With the Ihrtrade Neck Conditioning, you will feel a remarkably relaxing and relieving cervical traction device that you can easily use it at home.
Neck pain can make even your day-to-day activities uncomfortable, and it isn't always easy to resolve. There are many possible causes of neck pain, including arthritis, herniated discs, or injuries to the neck. The exact treatment will depend on the cause of your neck pain, but in many cases, your doctor or physical therapist may recommend a neck traction device. These devices gently stretch your muscles and decompress your spine to help reduce neck pain over time.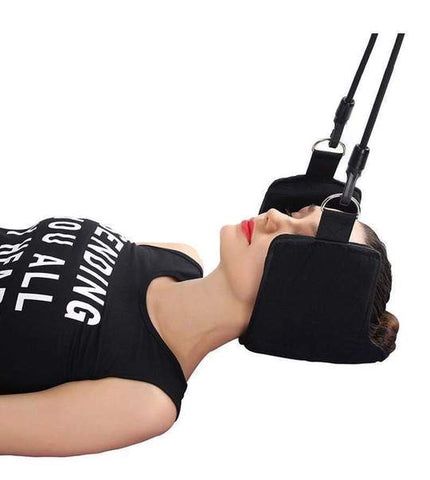 Due to its portable and convenient size, you can keep the Ihrtrade Neck Conditioning with you at all times. All you need is a sturdy door and a few minutes to feel better instantly. Now you can have a treatment plan for your chronic neck pain whenever you need it and wherever you go. Whether you suffer from muscle spasms, pinched nerves, or any other neck problem, our home cervical traction unit will provide you with the instant relief you need. Get rid of neck pain for good with us.
These days more and more people living a sedentary lifestyle, complain about stiff neck pain, headache, and migraine. A cervical collar is a chiropractor pillow that provides comfort and relief to the neck, maintains proper neck posture allowing it to heal or prevents neck injury and pain.
Our Neck Brace is perfect for Neck Pain Relief and offers Neck Support for relieves neck and shoulder tension,stiffness or dizziness,discomfort,fatigue,and stress.
---