Pan Drum Are A Very Recent Musical Invention
The Hang is a steel,disk-shaped, harmonically tuned percussion instrument that's played with the hands. It's incredibly sensitive and dynamic; the entire disk resonates at a central frequency as your hands move around the edge,teasing the notes out.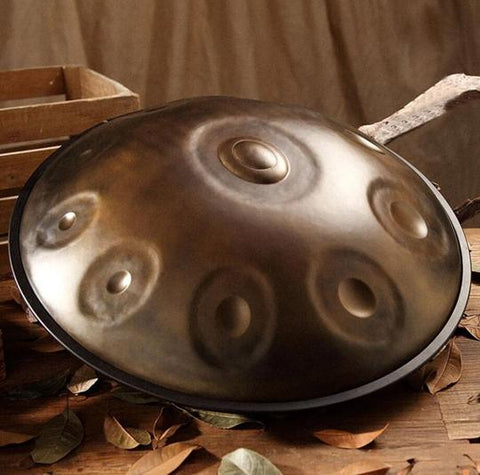 Features for Hand Pan Drum;
22 inch hand pan drum, a musical instrument in the idiophone class, adopts the principle of Helmholtz-resonator, with stable tone and beautiful sounds.

9 notes design, 1 center note(D3) and 8 tone fields (A3/bB3/D4/F4/A4/G4/E4/C4); manual tuning by professional, all notes have perfect resonance vibration.

Special nitriding steel material, features more ethereal and warmer drum sound; no need any musical background, beginners also can play melodious music.

Generally played with the hands or drumsticks, comes with a foldable drum stand, ideal for street performances, festival celebration, Yoga, sound healing, etc.

Including a carry bag that is dual zippers closure and shock-proof design, you can carry the hand pan drum with you during traveling.
the Perfect for Personal Meditation,Yoga, Zen,Sound Healing,Stimulates imagination and creativity,Can be played by anyone of age,Easy to carry, Portable- Play anywhere anytime.
Constructed of titanium steel alloy, coated by protective spraying-paint against tarnishing, scuffs, and scratches. Handcrafted by artisans, it can produce a clean, ethereal, Buddha-like sound and stable enough. Perfect for beginner.
Pan drum is a beautiful, modern library.designed by our good friends at Cinematic Instruments. With Pan drum, you get six deeply sampled hand pan instruments and two tongue drums, which are combined with sound design tools and playing features to create unique sounds.
---