Powerful Large Filtration Water Quality Booster Bath Hand Shower
It is important to have one piece of the High Pressure Shower Bath Head to enjoy the daily bathing.You can not miss this one.It is made of stainless steel panel with laser drilling technology.Dense water, no rust.The switch regulates the size of the water. Give you a different experience.
In order to prevent blocking,the impact of water.The shower can be cleaned and removed.International standard connection for 99% hose.The two stones, medical stone and tourmaline, have strong bactericidal effect and make the water contain more beneficial minerals.And  can improve our skin quality.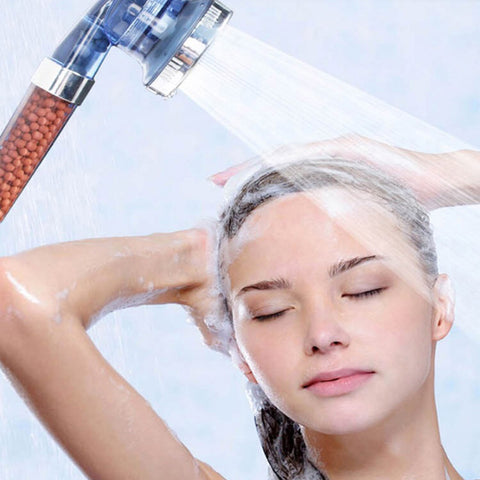 ABS Plastic F 8cm in diameter,It has three-speed adjustable shower head, powerful and large water filtration, pressurized bathing, hand-held shower head,With blue and white colors for you to choose.
With the shower head, you can save water & high pressure with steady water flow,up to 30% water saving and 200% water speed increasing beside ordinary shower head.
Enjoy luxurious Spa experience with high pressure ionic filtration shower head!
Impurities in your tap water will often dry your skin and cause an imbalance in your oil glands.
With the purifying effect of the bio active stones our shower heads will help you restore balance.
Health benefits may include smoother skin, reduce oil secretion,and increase cell viability.
Specification:
- Shower head length: 8.7in
- Shower head diameter: 3.15in
- Flow Rate: 2.5 GPM
- Water Consumption: 2.5 GPM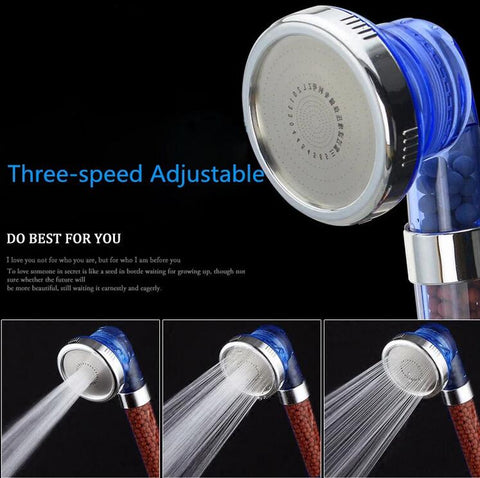 ---