Skin and hair care--3 Mode High Pressure Shower Bath Head
High Pressure Water Filter Shower Head,purifies water and rejuvenates your skin in your bathtub.Water saving without sacrificing water pressure thanks to laser perforated technology pressurize and saving water. Smoother skin and reducing oil secretion - bioactive stones help restore balance in oil glands.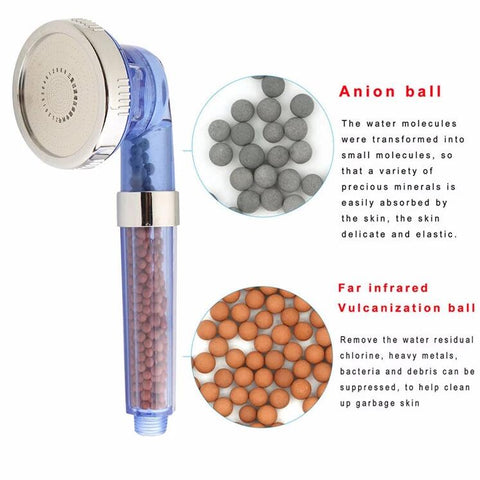 What is the 3 Mode High Pressure Shower Bath Head
Three Shower Modes: Rainfall, Massage and Jetting, 2-Layer of filters to get a SPA shower experience.

Use Eco-Friendly ABS material, with a transprent & see-through design and high-density filter which removable for easy cleaning.

Adjustable&Removable handheld shower, easy to use, just press a single button to adjust the three levels.

Launch anion, well absorbing of the body can regulate nerve center, improve lung ventilation function, promote metabolism, reduce fatigue. Negative ionic balls remove chlorine, purify water, improve mineral nutrient absorption, reduce oil secretion and increase cell viability.

The energy balls in the shower head can increase your cell vitality and make your skin healthy. (It is suggested that you change the balls once a month.)

How to install your shower head?
1. Connect the Cone joint of the hose with your shower head.
2. Place and fix your shower head on your holder.
3. If necessary, you can twine the joint with the complimentary Teflon tape.


How to replace the beads?
1.Hold the shower head and unscrew the sealing cap counterclockwise.
2.Take out the mesh strainer and the mineral beads.
3.Fill the shower head with 3/4 beads separately. Don't fill it too full.
4.Don't forget the strainers which separate the beads well.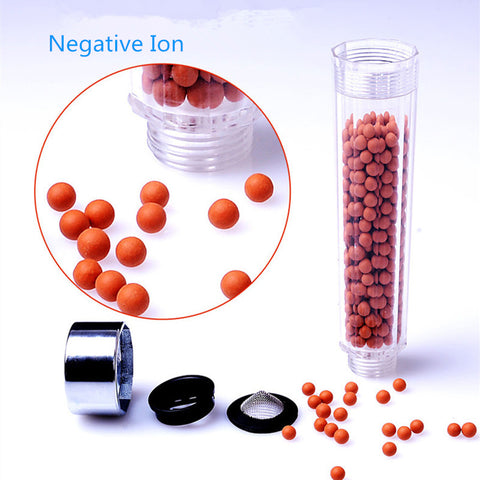 ---