Steel Tongue Drum Are For Everybody
The steel tongue drum excites the entire cavity thought the vibration of the tongue. Whether you are playing by hand or the drumstick, you need to control the strength, not excessive force or too lightness. When playing by drumsticks, please play with appropriate force and avoid rough operation for instrument concern.
The Steel Tongue Drum is a rich, full-sounding instrument that can be played with either hands or included rubber mallet pair. Precision crafted to deliver beautiful, expressive melodies, these drums are a fantastic piece for solo performances and are equally well-suited for ensemble use.Tuned to the key of A Minor and available in durable Black or Vintage Brown finishes, these Sonic Energy masterpieces will inspire both inexperienced players and professionals alike. An included padded bag helps to protect the instrument in transport or when not in use.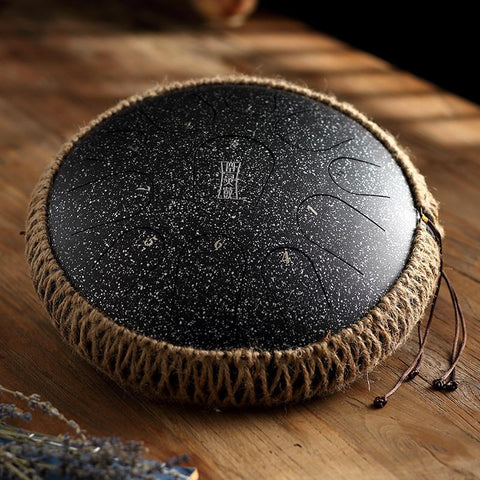 Anyone who wants an easy to play intuitive percussion instrument can play one. You don't need a musical background to enjoy it. The Hand Activated Percussion Instrument Steel Tongue Drum is ideal for jamming and playing percussive beats. The note layout of the drum makes it easy to jump right into grooving rhythms. An intuitive arrangement to the notes makes it easy to explore new musical horizons. The strong meditative tones are calming and great for relaxing anytime. And because of its compact design you can take it outside to enjoy on a nature hike or sitting around the campfire in the evenings.


Ihrtrade Professional Performance Carbon Steel Tongue Drums use tongues cut to different sizes to produce its tones. The steel is thicker at about 2mm. The original concept of using steel tongues came from Dennis Havlena who began cutting tongues into propane tanks in 2007. These types of drums are called Hank Drums, a play on words mixing Hang and Tank together. 
---