Steel Tongue Drum Is a Prefect Gift For Erveryone.
A tongue drum percussion instrument comprises a cylindrical shell,a circular tone plate and a plurality of fasteners.The cylindrical shell has a plurality of mounting posts extending from one edge surface.The circular tone plate is a flat metal plate provided with a plurality of tongues having a specific angle between the edges. The plurality of tongues are different in length and extend inwardly from an outer peripheral edge of the flat metal plate. The tongues are separated by radial slits and have mounting holes arranged at the ends of the slits.Different lengths of open space is created between oppositely facing end faces of the tongues.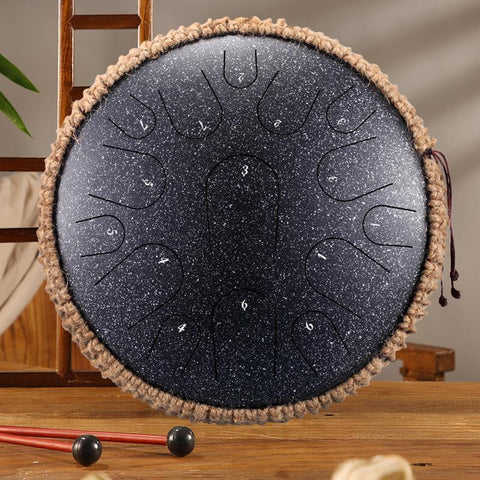 About the Steel Tongue Drum:
13inchn 15 Notes Drum.Play it, forget your worries.enjoy your life,a Prefect gift for erveryone.It is great for personal meditation, yoga practice zazen, music therapists,performances,religious activities,etc.You can play it with the included drum mallets or with you hands, and the included note enable beginners to learn and play it more easily.No musical background is needed, just follow your heart to explore, and its ethereal sounds can purify your mind and soul, and makes you achieve inner peace.
This 13 Inches 15 Notes D Key Handpan Drum  features standard 15 notes with a wider range of sounds. You can play more songs and also play chords for accompaniment. The nice tones make it easier for listeners to resonate.
Various Ways for Playing: There are many ways to play the pan drum. You can tap it with your hands to get a gentle sound. And finger picks can help you play different sounds. Besides, the echo by playing with mallets will be more penetrating and more ethereal.
Wide Application: This tongue drum will emit pure and soothing notes, which will help relieve stress and enjoy peace and relaxation. It is widely used in music education, yoga practice, zazen, spiritual rehabilitation, religious activities and more.
High-quality Material: Made of premium high-carbon steel, this tongue drum is sturdy and abrasion resistant with good hardness. And it coated by protective spraying-paint, which is resistant to discoloration and scratches. With exquisite craftsmanship, this drum is durable for long-term use.
---