Take Real Tactical Military Watches For Outdoor Sports
Tactical Military Watches are quite popular and are generally more rugged than most standard watches. Many use highly accurate quartz movements and feature stealthy looking cases such as black PVD and titanium.Tritium tubes are also a popular feature for use in tactical watches.
With stopwatch, chronograph, 5ATM waterproof, dual time, 12/24 hours, shockproof, alarm, punctual report, large number, time/date/time displa.Large sporty dial designed with dual displays and multiple functions, fits both outdoor and indoor activities, such as running, hiking and so on, easy to set up after reading the manual.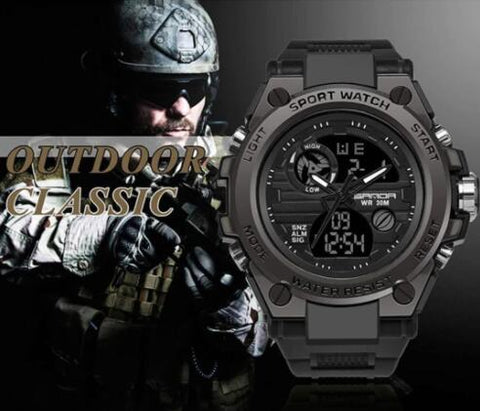 Dual-display designed make you be able to set two time zones,Alarm and hourly chime, convenient for you to control your time,Chronograph function is perfect for sports or anytime you want to time,Multiple functions and comfortable band are suitable for sports,Too much water contact will shorter the watch life.Even if this sports watch is waterproof, avoid wearing it in the bath or in areas where detergents(soap, shampoo, etc) are being used. Such conditions can reduce waterproof.
Water resistant to 30M,meet your daily waterproof need,don't worry about when you wash hands or wash cars. Covered with 304 stainless steel bottom to improve the waterproof performance;Adopt japanese imported quartz movement and long-life battery. provide precise time keeping and longer service life, help you to manage your time wisely.
Choosing a real tactical watch is about picking function over form,and having a timepiece that can withstand far more punishment than a flashy wrist adornment. They typically have elongated battery lives and often opt for solar charging to stay ready for action. Their inner workings are simplified to limit alterations in time based on damage sustained, giving them more accuracy when the going gets tough.
---