The Lily Solar are Prefect Gift
Solar Powered Garden Flower Stake Light,energy-efficient and Eco-friendly, Upgraded Solar Panels,charged by day and illuminates at night,more than 8 hours lighting time on a full charge.Lily shaped stake light with 7 color-changing. Lily solar lights automatically lights up in the dark to illuminate your garden and pathway. Perfect as path lights and in-ground lights Suitable for the Garden, Trees, Flowers, Flowerbed, Fence, Walkway, this garden solar lights Does it all.
A yard full of flowers is a gardener's delight, and our Solar Flower garden stakes are no exception! Lilies, roses and tulips galore will fill your backyard garden and entrance walkways with beautiful color and charm and do something none of your other flowers can do – shine and sparkle in the evening!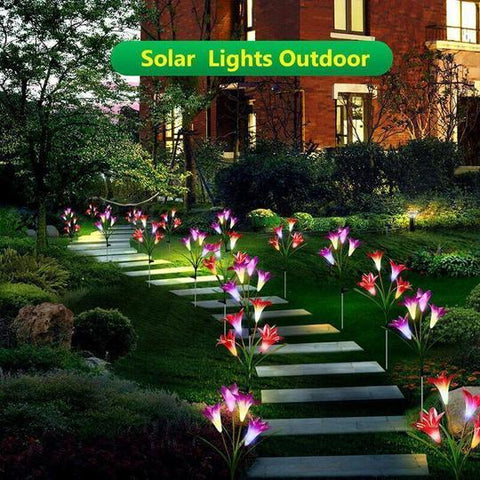 That is correct, beautiful color and design all season long, and no water required! Each of these solar flowers have a discreet solar panel that collects energy from the sun and stores that power in a rechargeable battery. Most flowers get their energy from the sun, and these solar flowers are extra sophisticated. In the evening time, a sensor turns on a bright LED light that helps these flowers illuminate in the evening. Most of our solar flowers are made of metal and glass for long term durable enjoyment!
This solar lights outdoor which changes 7 different colors to promote the desire ambience of any occasions, whether it is for a backyard event, or just the finishing touch on your outdoor masterpiece. it is a gift for family and friends.dont miss our store to get what you need.
---