The Original Neck Hammock Portable Cervical Traction Device for Neck Pain Relief and Relaxation
The Original Neck Hammock is a patented cervical traction assistant that works by gently pulling the head away from the neck to stretch and decompress the spinal cord, which increases bloodflow, oxegenates the surrounding muscles, decreases pain, and increases mobility of the neck and shoulders.
The Neck Hammock takes only 10 minutes a day and is the easiest, most portable, one-size-fits-all solution for your back and neck troubles - perfect for athletes, long flights, business trips, long work days, and more!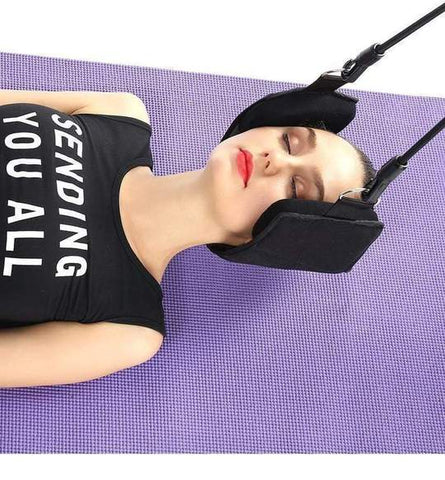 The Neck Pain Relief Cervical Traction is designed to wrap around any door, railing, or pole, giving you the flexibility to use the Neck Hammock wherever you want - no more laborious setup or oversized equipment.It is effective solution to sooth away neck and shoulder aches and pains. Helps alleviates tension, increases relaxation, and promotes healing.a must have for deep relaxation, work breaks, long days at work and exercise recovery.
Feel fresh and invigorated in just 10- 15 mins a day. Gently stretches, relaxes and rejuvenates neck and shoulders anyplace.Healthy and safe,fast and convenient.
For your safety and tranquility the neck support is safe to use.A portable cervical pillow made from 100% cotton, fit your neck and head perfectly. memory rebound foam provide added comfort and relaxation, while the free eye mask allows you to rest undisturbed.
---