The Steel Drum is A Prefect Present For Children And The Elder.
Handcrafted with steel-Titanium alloy,the steel tongue drum is also coated with water-based environmentally friendly paint that against tarnishing, scuffs, and scratches. It is a longlasting percussion instrument that you can always keep. 
Ihrtrade Alloy Copper tongue drum is a musical sculpture that combines the essence of Chinese thousand years of philosophy, religion, culture, art, music and national studies. It combines modern technology, sound theory and innovative design. It is a work of art, a musical instrument,and even of your mind mate.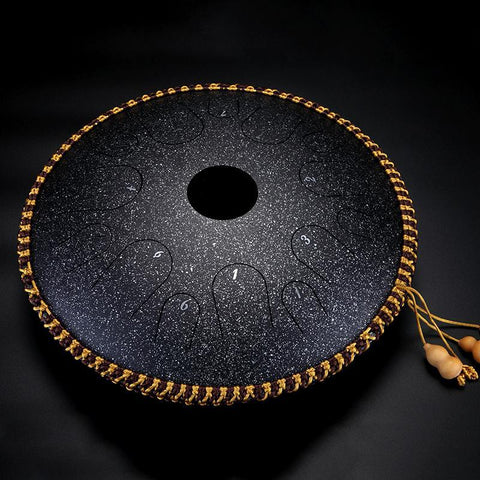 Cut with lasers for perfect tuning and checked by professional artisan, each "Lotus Leave" of the 13 tongues emits excellent resonance vibration and brings you pure, smoothing and peaceful sound experience from every single note hit. 14 note steel drum can be played with most common tunes, works better than 11-tones steel tongue drum does.
Steel Drum with abundant and highly contrasting texture combines the timbre of Chime,Qing, Songbo (Traditional Chinese musical instruments), Guqin (A seven-stringed plucked instrument in some ways similar to the zither) and Zither. Learning to play tongue drum enhances musicians' imagination, concentration and memory, improves physical and mental health and makes you calm, optimistic and transparent.
It is easy to carry the Alloy Copper tongue drum.Comes with a free travel bag, you can easily carry the tongue drum for a variety of activities, including music education, mind healing, yoga, meditation, music therapists, religious activities and more.


---