The Steel Tongue Drum Is Ideal For Both Beginner And Professional
This Carbon Steel Tongue Drum will be your best helper to relieve stress!Made of high carbon steel, this ethereal drum has good corrosion resistance to support your long-term use. Professional 15 notes allow you to play a variety of music. And it equipped with mallets and finger picks,so you can choose different ways to play. Music score and scale stickers can help you learn and use better.Ethereal sound will fully relax your mind and body!
If you are looking for tongue drum, don't hesitate to buy it!it is perfect for music therapists,yoga practice and performances.15 notes for a wider range of sounds to play more songs.High-carbon steel for durability and abrasion resistance.Drumstick and finger picks to provide different playing ways.Easy to carry with portable travel bag.Rubber supporting feet for good stability.Purify your mind and soul with ethereal sound.Music score and scale stickers for grasping the rhythm easily.Ideal for both beginner and professional.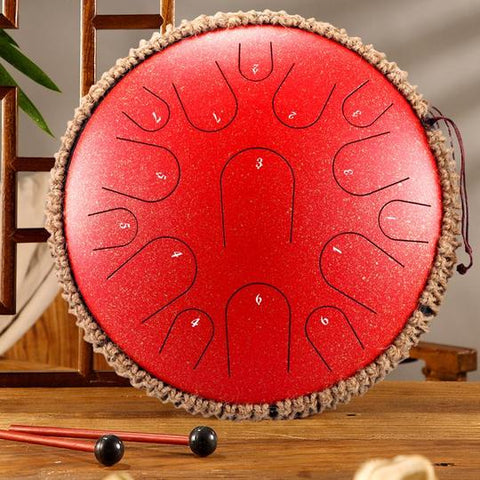 The steel tongue drum emits pure,soothing notes.Playing a tongue drum can relieve stress and bring relaxation and peaceful energy into your life.15 tongues are precision cut with lasers for perfect tuning, which have a wide range of sound and can be played with mallets or with your fingers.Applicable to a variety of fields, including music education, mind healing, yoga meditation and so on. With a large number of musical scores,even beginners can play extremely pleasant music in accordance with the score.
The Steel tongue drum is handmade by professional craftsmen. Although it is simple in structure, the sound is very pleasant and it is a kind of sound like Buddha's tones. It has a total of eleven sounds in D major.
---