The Steel Tongue Drum is Well Protected For Good Maintenance
Carbon Steel Tongue Drum 12 Inches 11 Notes C Key,there are no wrong notes, you will be played enough beautiful overtones by Hitting with your hand or drum mallets.Protective lacquer finish guards against tarnishing, scuffs, and scratches.Silicone feet stabilize the drum's position during playing. Great for Camping, Yoga, Meditation, Music Therapy snd parties. And also can be used a interior decoration to make your indoor nice and cozy.
The tongue drum is super easy for anybody to learn and being skilled in play even those who with no musical background. You can perform wonderful music in 2 methods, using either hands or mallets. The former requires higher hand power as well as accurate tapping position while the latter is more beginner-friendly, ethereal and penetrating.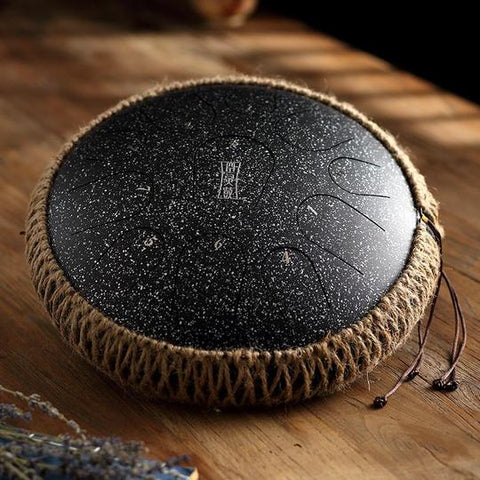 A tongue drum is a musical drum that has parts of the exterior cut, or slit, to provide for a certain sound when the user strikes a portion of the drum.
It delivers Buddha-like, clean and pleasant sound once you tap it with your hand or mallets.By the way, playing with mallets may be the first choice to beginners since using hand demands higher power and accuracy. Anyway, it is easy to master in short time thanks to distinguished notes and music book. While 11 notes makes for wider range music than others. Because of its unique sound, it is always used in yoga mediation, religious activity, mind healing and more, of which intention is to purify people's mind and relax mental tension. Or you can use it as a decoration in home, and its elegant appearance with beautiful lotus flower design will never let you down. Meanwhile, it is made of high quality steel and coated with spraying paint, enabling excellent corrosion, scratch and fade resistance for longer life span.
Needless to say, the music instruments should be well protected for good maintenance, and that is the reason why the padded storage bag is provided. More, the carrying bag can bring more convenience if you want to carry the tongue drum set outside for a performance.
---