The World is Very Cear With Monocular Telescope
3M close focus monocular telescope can clearly see any object outside 3M.Telescope distance: 3M to infinity,let this perfect world be clearly in front of your eyes.with stretch design.after installing the mobile phone, there is no need to remove the mobile phone to adjust the focus, just stretch it lightly to adjust the focus.You can keep your phone firmly fixed on it, and you can observe the world while lying down. 
Powerful additional functions :
Lightweight, convenient, and full of feel.
The latest ABS synthetic plastic steel material, no fear of collision.
The latest BMK4 prism.The world is very clear. High magnification does not shake.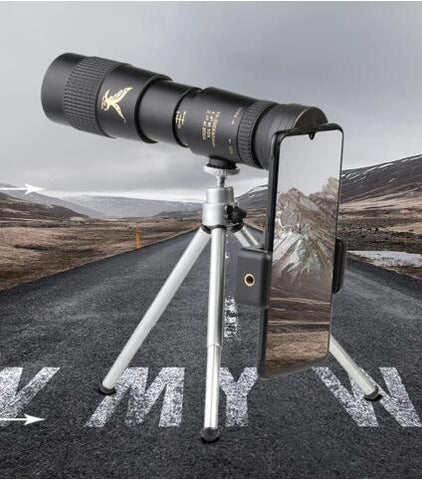 The telescope's anti-shake system and special tripod 3D gyroscope make the telescope's field of view very stable when magnified multiple times. The built-in night vision function allows you to use it normally at night. Turn on the auto focus and blur the background function, brake you can focus on observing the person or object that needs to be observed. Nitrogen-filled waterproof and O-ring sealed optics prevent moisture, dust and debris and ensures the living waterproof function.
This monocular telescope is the first attempt to use nano-etching technology . nano-array technology . mesoporous assembly technology . thin-film mosaic technology and nano-optical materials to make the flatness error of the lens reach 10nm.The maximum magnification reached 300 times.This is the first monocular to achieve this magnification and clarity on such a small scale.Turn on auto focus and blur the background function so that you can focus on observing the person or thing you need to observe.
---