TRAVEL PILLOW SUPPORT SYSTEM FOR YOUR HEAD,NECK AND CHIN
The
 travel pillow 
will help you rest better so that you'll arrive refreshed and ready to enjoy your day.It's the next best thing to a bed when you're travelling.they are having an arch.
shaped padded cushion surrounding an inner perimeter containing less padding so that the head of a child may be placed within the larger arch for support, with said cushion contained within a cover having two straps extending downward below the waist of the user to form two end points which attach to each other with one placed under and one over the child's seat belt.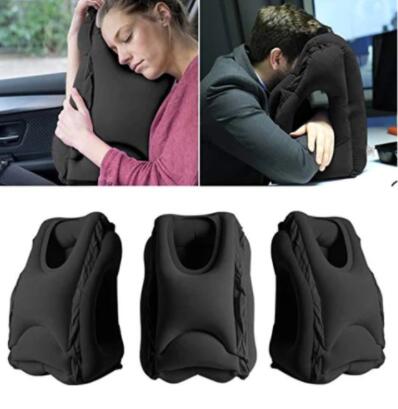 Traveling can be a leisure activity or hobby for a few but for some, it can mean a job. There are countless places where one can go and explore the magnificent history and cultures. However, long distance flights imply being confined to a place for hours. Lack of sleep further can prove to be more challenging.This is when you need a perfect travel companion that works and makes you feel comfortable. On a search for a neck pillow which offers you maximum comfort while in any sitting position? The 
Inflatable Travel Pillow
is a patented, innovative product that will certainly put an end to all your travel woes.If you are wondering why you must have this product, then here are some features that you need to know. This pillow offers a seamless support that your chin, neck, and head require while in any sedentary position.The distinctive chin position makes you feel comfortable effortlessly. It secures your head in a position and the special booster side cushions prevent it from rolling side wards.
---