This unique and rare Chef knife is forged and shaped by hand before being heat treated using the traditional techniques of master blacksmiths. The old hardening technology passed on from generation to generation gives the knife an HRC of 59. In addition, the physical density and rigidity of this knife are greatly improved by repeated hammering by experienced blacksmiths.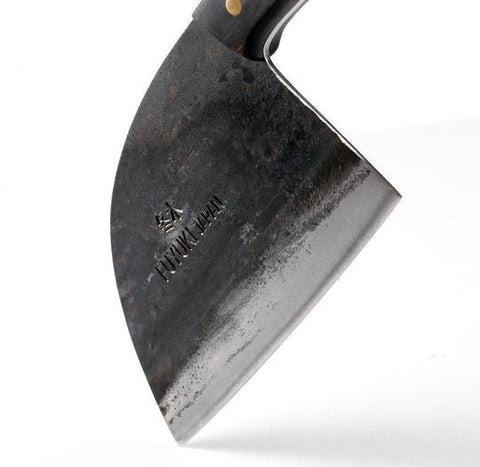 A chef's knife is an all-purpose, typically long knife that is used by professional chefs and many cooks at home. It's one of the knives that is essential to kitchen work and probably one of the better investments you can make when stocking your kitchen. In professional kitchens, the chef's knife is indispensable, and probably one of the most frequently used knives.
The better the chef's knife, the more likely you're going to pay a lot for it. Some fears exist that a really sharp knife is more hazard in the kitchen than not. Actually, you're more likely to cut yourself with a knife that is not appropriately sharp, and when you do cut yourself with a dull knife, it tears the skin, causing a more painful cut. If you do cut yourself with a sharp chef's knife the cut is more precise, though it can still hurt, and it tends to heal more quickly.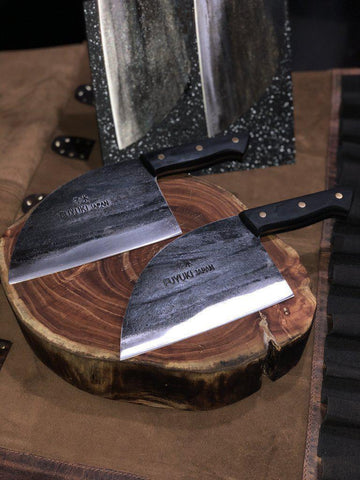 Stainless steel rivets combined with genuine elk antler handles make this knife not only functional, but beautiful. The wide 8 inch blade is perfect for any of your chopping projects.
Blades made of ceramic are shaped by sintering with zirconium oxide powder and are chemically nonreactive, so that they are not going to discolor or affect the taste of food and they keep a sharp edge the longest, however they can easily chip or even break if dropped. Additionally, they require specific equipment and require experience to sharpen properly.
---