What is Magic Teeth Brace?
Magic Teeth Brace Perfect Smile Veneers is a product that can help mask missing,crooked,chipped,or stained teeth with a simple cover. This "cover" requires no expensive dentist visit and is molded to your existing teeth. It's also really easy to start this process.After you receive your Magic Teeth Brace,simply place it in your mouth and wait ten minutes for it to form to your mouth.After that,your days of worrying about smiling are over!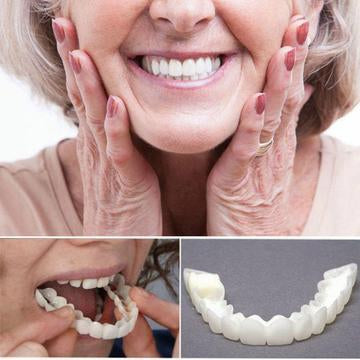 Developed in the last few years,the Magic Teeth Brace is a veneer that can give the perfect smile without spending money on dentist visits.The white veneer is specifically designed to look like a set of teeth,so other people really won't have an idea that you need some assistance in your smile.

The white veneer is great for covering up missing,crooked,chipped or stained teeth.Instead,the Magic Teeth Brace gives you a bright and perfect smile.The differentiating factors of this product are that,it's easy to use and clean,it's reusable and adjustable,it's super comfortable and it allows for a comfortable fit.
The magic teeth brace is made of high-quality silicone material,which is non-toxic and harmless and can be used with confidence.it can make beautiful you smile even more.Special custom molds for fakes teeth to cover curved, stained, missing and chipped teeth.
---